Nicaragua: Political Prisoners Fear New Beatings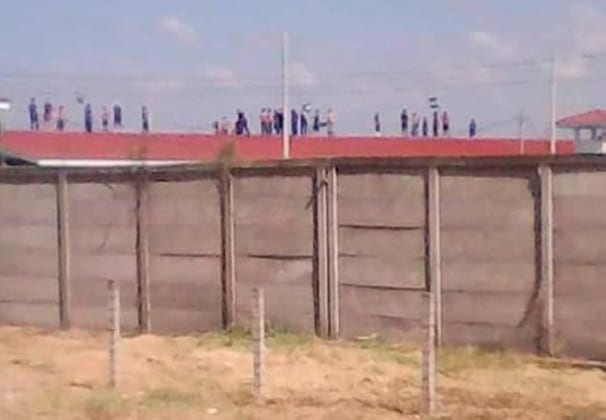 Political Prisoners on the roof of La Modelo prison
Again, prison authorities respond with a beating against political prisoners that protest against inhumane conditions and demand freedom
HAVANA TIMES – The political prisoners of gallery 16-1, of the La Modelo prison, held a protest on the roof of this jail after the guards, Ignacio Matus and William Trujillo, beat the inmates of the maximum-security cell number 300, who since yesterday were protesting so that their windows be opened and be let out to get some sunlight.
"For more than 12 hours the political prisoners carried out a protest from the building of gallery 16 to the maximum-security cells, demanding freedom. Today we have seen these young men break the security of this dictatorial regime," says the political prisoner, Yubrank Suazo, in a video that went viral on social networks.
According to the Permanent Commission of Human Rights (CPDH), the guards responded by violently entering the cell, throwing pepper spray at them, handcuffing and beating them, mainly Chester Membreno and Francisco Sequiera. Given this situation, the prisoners of gallery 16 opened a hole in the ceiling and climbed up with blue and white flags and sang the National Anthem.
"At two in the afternoon of March 8, 2019, an incident took place in the Penitentiary System of Tipitapa, because a political prisoner in cell number eight, desperately asked for the door of his cell to be opened because he was ill," reported the CPDH lawyer, Julio Montenegro.
The relatives of political prisoner, Yubrank Suazo, who gave statements in the video, fear that in light of this wave of protests the guards will return to the cells to beat them, as has happened on all previous occasions that political prisoners have protested. Suazo has not been convicted, since his trial was restarted in February due to a change of judge.
Likewise, a number of female political prisoners at the La Esperanza jail have already completed ten days of a hunger strike that began on the day the negotiation began between the Government, businessmen and the Civic Alliance.
#ReporteCiudadano Presos políticos se suben al techo del penal La Modelo para protestar. pic.twitter.com/hPWm2dYMZ0

— Confidencial.com.ni (@confidencial_ni) March 9, 2019