OAS Special Session on Nicaragua Tuesday (Watch Live)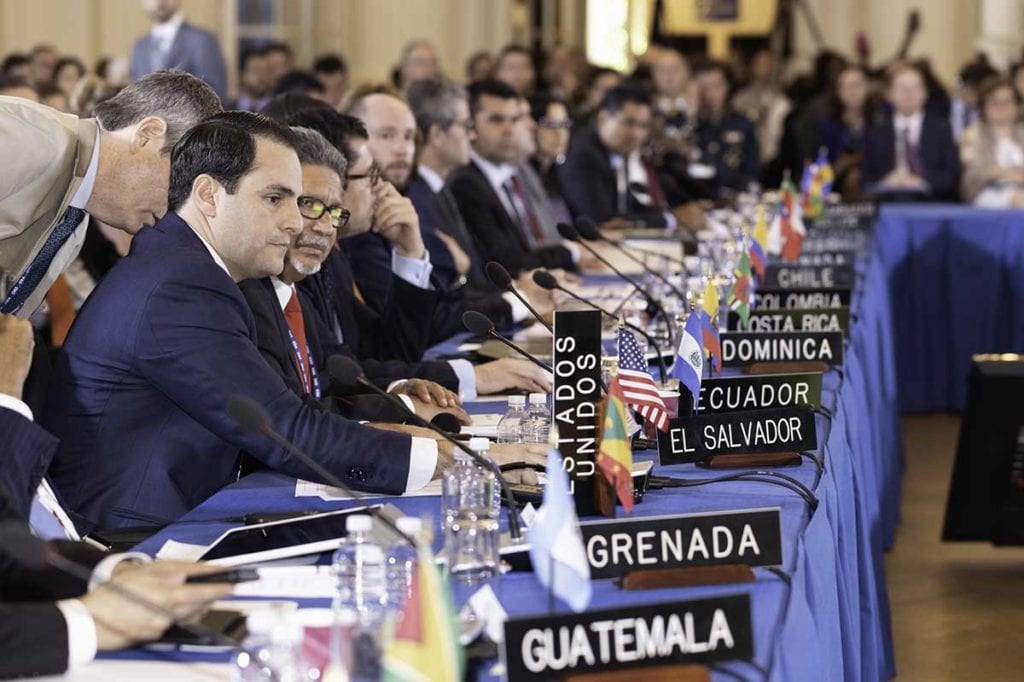 HAVANA TIMES – The Permanent Council of the Organization of American States (OAS) plans to hold an extraordinary session on the crisis in Nicaragua this Tuesday afternoon (2:30 p.m. ET, 1:30 p.m. in Nicaragua), reports the El Nuevo Diario newspaper.
The session can be watched live at https://www.oas.org/es/council/ in both English and Spanish.
The resolution to be voted on by the Permanent Council establishes: "to continue with the collective assessment of the situation in Nicaragua, in accordance with the Inter-American Democratic Charter, and to present this issue to the OAS General Assembly in June 2019," in Colombia.
Other central points of the resolution urge the Ortega Government to carry out "the unconditional release of all [political] prisoners, before June 18, 2019", "to allow the effective work of the Inter-American Commission on Human Rights (IACHR)", expelled from the country at the end of 2018, "to carry out the necessary institutional measures that guarantee free, fair, transparent and legitimate elections," and allow the return of the tens of thousands of exiles with guarantees and security.
The resolution also calls on the Government of Nicaragua "to guarantee freedom of speech and of the press, allow the exercise of the right to peaceful demonstration, stop arbitrary detentions and guarantee the independent work of organizations and human rights defenders."
The proposal to continue the process outlined by the Democratic Charter was presented by the delegation of Canada, which chairs the OAS Working Group to address the crisis in Nicaragua. It reiterates, "the concern of the inter-American community for the deterioration of democratic institutions and human rights in Nicaragua and their support for a peaceful solution to the political crisis in that country. "
For several months, in the Permanent Council of the OAS, Nicaragua has been subjected to a process of "collective appreciation" to continue with the application of the Inter-American Democratic Charter, after it was determined that there is an alteration of the constitutional order in the country provoked by the violence of 2018.
The Civic Alliance for Justice and Democracy, which represents the Nicaraguan opposition in the stalled dialogue with the Ortega government, hopes for an "overwhelming" resolution of the OAS and warns of more sanctions in Europe due to lack of will of the Government to resolve the crisis.