Raul Castro in Uruguay for Inauguration of Tabare Vasquez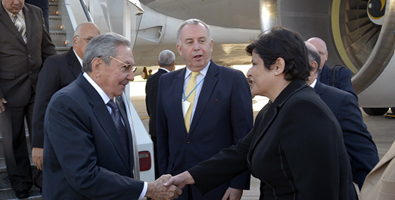 HAVANA TIMES — Cuban president Raul Castro arrived in Montevideo on Saturday afternoon to attend the inauguration of Tabare Vazquez of the Frente Amplio coalition as the next president of Uruguay.
Vasquez returns to the presidency as the term ends for his coalition colleague Jose Mujica.
The trip is Raul Castro's first to Uruguay where around 30 Cuban doctors and technicians are working in the Operation Miracle vision restoration program. Currently 236 Uruguayan students are studying at Cuban universities, reported Juventud Rebelde newspaper.