Raul Castro Meets with US Congress Members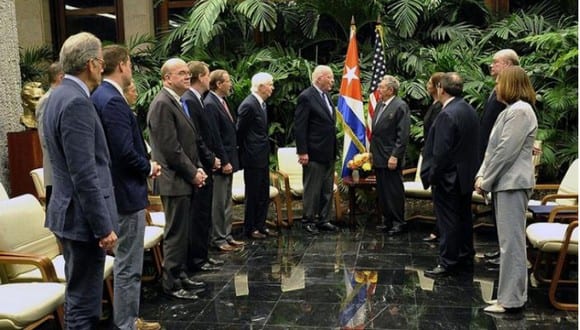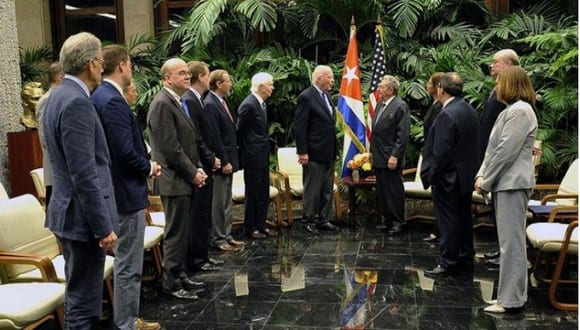 HAVANA TIMES – Cuban President Raul Castro met with a delegation of US senators and representatives to discuss "issues of interest to both countries," according to state television on Tuesday. No details of the conversation were revealed, reported dpa news.
The group of legislators was led by Senators Patrick Leahy, Democrat of Vermont, and Thad Cochran, Republican of Mississippi.
Also participating were Democratic Senators Thomas Udall of New Mexico and Michael Bennett of Colorado and Democratic representatives James McGovern and Seth Moulton of Massachusetts.
During the meeting Raul Castro was accompanied by Bruno Rodríguez, Minister of Foreign Affairs; Rodrigo Malmierca, Minister of Foreign Trade and Investment; and Josefina Vidal, the United States director general of the Foreign Ministry.
The US senators and representatives arrived in the country on Sunday.  During their program in Havana they also met with Agriculture Minister Gustavo Rodriguez and visited the new Cuban Parliament headquarters in the restored Capitol building.
Last month, the independent Chicago Council on Global Affairs made the island the first trip of a US delegation that spoke with Cuban authorities since Donald Trump took office.
The diplomatic thaw between the two countries prompted during the presidency of Barack Obama is experiencing a moment of uncertainty as President Trump and his staff review their options to form a new policy regarding Cuba.  During his election campaign Trump threatened to reverse the overtures made by Obama.