Raul Castro Warns Trump that His Cuba Strategy Will Fail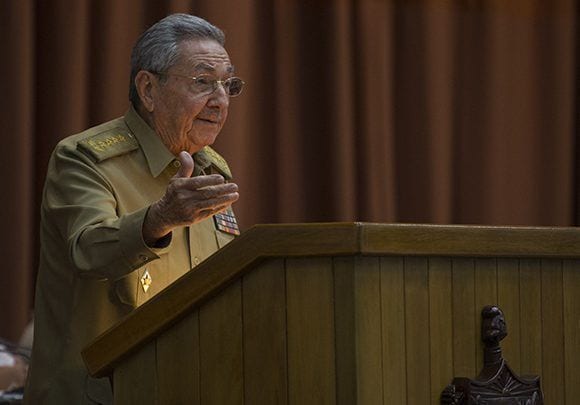 HAVANA TIMES – Cuban President Raul Castro warned his US counterpart Donald Trump that his strategy toward the island will not succeed and reiterated his readiness for dialogue, dpa news reported.
"Any strategy that seeks to destroy the Revolution, through coercion, pressure or subtle methods, will fail," said Castro during the closing of a session of the National Assembly, transmitted by state television.
In June, Trump announced a policy change to Havana with a tougher line than the one employed by his predecessor Barack Obama, who succeeded in reestablishing diplomatic relations between the two countries after decades of confrontation.
Trump announced restrictions on US companies to do business with Cuban military companies and tightened the partial travel ban on his country's citizens visiting the island.
However, the US administration announced today that it has suspended for a further six months a part of the embargo on Cuba, in what is interpreted as a further sign that Trump is not completely reversing its predecessor's policy toward the island.
According to a State Department statement, the provision of the Helms-Burton law on property seized from US citizens in Cuba will be suspended.
That provision, which is title three of the law, allows US citizens to go to the country's courts to sue non-US companies operating with property confiscated after the Cuban Revolution.
The suspension of the provision, which leaves this right without effect, has been renewed every six months in recent years. According to the State Department statement, the extension of the suspension starts from August 1.
A month after Trump announced his new policy toward Cuba in Miami, today's announcement is interpreted as a new sign that in practice, the president does not want to end the rapprochement with Cuba, even if he does introduce changes.
Likewise, Raul Castro said today that Trump "resumed a discourse of a confrontational past that had been utterly unsuccessful for 55 years."
Castro's words are the first public reaction of the Cuban president to the new policy of the US president.
"Cuba and the United States can cooperate and live together respecting differences and promoting everything that benefits their peoples," said Raul Castro, who clarified that his country "will not make concessions regarding its sovereignty and independence, nor will it negotiate its principles."
The Cuban president affirmed that his Government is ready "to continue the dialogue and the cooperation, as well as the negotiation of pending bilateral issues with the United States, on the basis of equality."
During his parliamentary speech, Castro said that in terms of human rights, Cuba "does not have to receive lessons from the United States, nor from anyone else."