UK Foreign Minister Visiting Cuba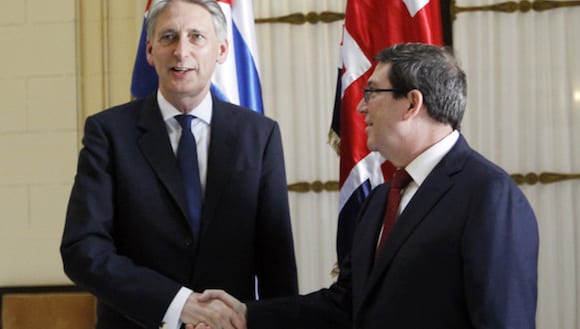 HAVANA TIMES — The UK foreign minister, Philip Hammond, is in Cuba for the first visit by a head of British diplomacy to the island since the 1959 revolution, reported dpa news.
Hammond met Thursday afternoon with his Cuban counterpart, Bruno Rodriguez. They signed four memorandums of understanding in the areas of education, energy, culture and the financial and professional services, noted the Cuban media on Friday.
There is "great potential to further improve relations in the coming months and even years," said Hammond.
"As Cuba enters a period of significant social and economic change, I am looking forward to demonstrating to the Cuban government and people that the UK is keen to forge new links across the Atlantic," Hammond was quoted as saying by The Guardian.
"As the first British foreign secretary to visit Cuba since before the Cuban Revolution in 1959, this is an opportunity to hear for myself what Cuba thinks about its present challenges and where it sees its future," he added.
Several European countries have approached the island recently after relations were at a minimum level for years.
France has led the approach to Cuba. François Hollande became in May 2015 the first French head of state to travel to the island. Cuba's Raul Castro returned the visit in February this year to Paris.
During the last nine months Germany also sent its foreign minister, Frank-Walter Steinmeier, and Deputy Chancellor Sigmar Gabriel to make unprecedented visits to Havana. The Netherlands and Spain are other European countries that have sent senior representatives to Cuba.
Such visits are framed in a new policy of dialogue with Havana of the European Union (EU) as a whole. The EU seeks to improve relations with Cuba after years of cooling.
Brussels and Havana agreed in March to sign a treaty of political dialogue and cooperation, after two years of negotiations. Cuba was the only Latin American country with which the EU did not have a bilateral treaty of this nature. The treaty must be ratified by both parties.
The new policy of the European countries aims to encourage more changes in Cuba through dialogue and cooperation, as a way to support the slow economic opening initiated by the government of Raul Castro in recent years.
The EU approach to the Caribbean island has been driven by the historic thaw Cuba and the United States announced in December 2014.
The two old ideological enemies resumed diplomatic relations in July last year. US President Barack Obama, visited Havana in March.