Venezuelan Bishops Warn of Social Upheaval over Food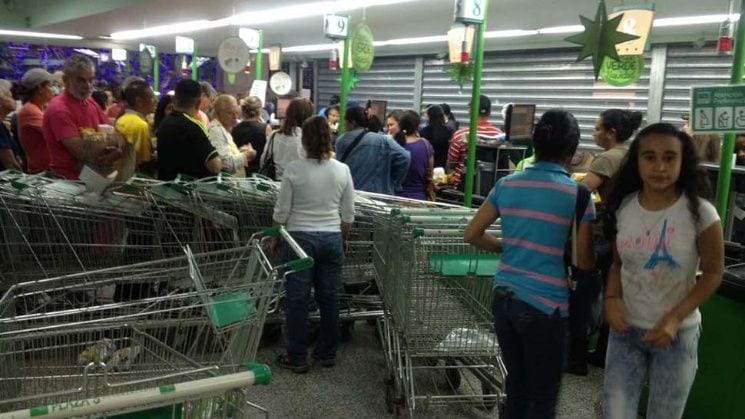 HAVANA TIMES – The president of the Venezuelan Episcopal Conference, Diego Padron, warned today that the protests taking place around the country for a lack of food could generate a very strong social upheaval, reported dpa.
Padrón called for respect for private property, referring to the looting of recent days, which left shops empty in several regions.
"In recent days, the protests against the Government for the lack of food, medicine and gasoline are all connected in some way and are a warning, an alert, a call to take into account that very strong social upheaval could occur and the call we make is for Venezuelans to respect the property of others and the principles of the human person," said Padrón.
The looting in recent days in several regions of the country left shops destroyed. The tension continued after the government ordered some 26 supermarket chains to lower the prices of some consumer products to the levels of mid-December, in the midst of galloping inflation.
On the street the Bolivar now trades at 136,000 to one US Dollar.
Padron opened a bishop's conference to choose its new board of directors reading a speech. The bishops have been highly critical of the Chavez and now Maduro Government with its manifestos.
Padron mentioned the critical economic situation of the country, exacerbated by hyperinflation and the shortage of food and medicines.
"These were some of the saddest Christmas holidays in Venezuela's recent history. It is true that we do not bring sadness because each of us left her at our bedside table, but on visits to the communities we see the anguish and the clamor of people for bread and remedies. We bring faith and hope in the saving power of God, a word of consolation and a project of solidarity for our people," he said.
Padron also referred to the dialogue between the government and the opposition in the Dominican Republic to seek solutions to the crisis, to resume on January 11 and 12 in Santo Domingo.
The prelate said that the people have no confidence "either in the actors nor in the clarity of the objectives nor in the consistencies of the whole process".
"Dialogue is valid and necessary and justified insofar as it contributes to changing the current dire situation." However, this process does not have the vote of the people, because the people have no confidence in the actors or in the consistency of the results," he stressed.
However, he expressed his hope that the talks will reach a "credible" agreement that will guarantee a transparent presidential election this year and a new directive from the National Electoral Council (CNE).
Padron warned that if an agreement is not reached, people's disillusion will increase and "the demons of power will be unleashed."
He also noted that Pope Francis is following with concern the events in Venezuela and asked the Venezuelan bishops to maintain their commitment to the people and continue "accompanying and defending their rights."