Some 4,100 Cubans Still Stranded in Costa Rica
Only Nicaragua maintains a blockade on Cubans as the other Central American nations and Mexico are helping resolve the situation.
Wilfredo Miranda Aburto  (confidencial.com.ni)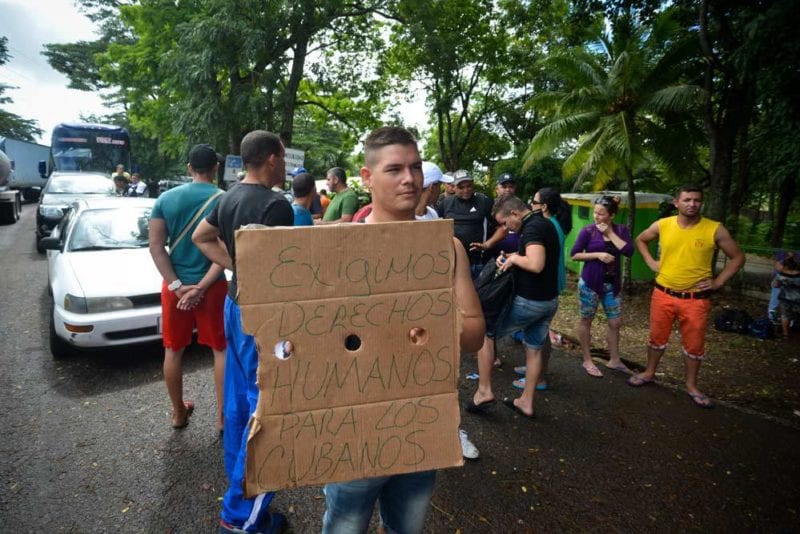 HAVANA TIMES — Costa Rican president Luis Guillermo Solis reported on Friday that some 4,100 Cuban migrants remain stranded in his country, waiting to be able to reach the United States.
After a meeting with Guatemalan president Jimmy Morales in Guatemala a journalist asked Solis about the situation of the Cubans in Costa Rica. In reply he expressed his hope that "within weeks" all the Cubans can reach the United States.
The immigration crisis originated last November 15, when Nicaragua deployed its army to close its border to Cubans and led some 8,000 to become stranded in Costa Rica. After Costa Rica reached an agreement with the rest of Central America and Mexico, the International Organization for Migration (IOM) organized flights to San Salvador and guarded bus trips on to Mexico. Recently another option opened for the Cubans to fly directly from Costa Rica to Mexico, from where they are given temporary visas so they can reach the US border.
The two options were set up by the IOM through a travel agency. The cost must be borne by the migrants and none of the governments involved have paid or received money for these transfers. The route via El Salvador costs US $555 for each adult and direct flights to Mexico, between $750 and 850.
[The steadfast position of Nicaragua forces the Cubans to pay considerably more than if they had safe conduct passes to move through the country.]
A journalist asked Solis how the Cubans without money will pay for their trip. He said that help will come in "philanthropic ways" to meet their needs, but did not go into details.
Since the beginning of this immigration crisis, Costa Rica says it granted 7,802 temporary visas to Cubans, but on December 18 suspended the delivery of more of these documents saying it had exhausted its capacity to provide humanitarian aid in shelters. The Costa Rican president did not hesitate to thank Mexico, Guatemala and El Salvador for their assistance in the effort to address the crisis in an "exercise of pure humanitarianism."
[Frustrated by the delays, over 2,000 Cubans have reportedly left Costa Rica on their own paying traffickers, known as coyotes, to guide them north on the same routes often used by drug traffickers. Costa Rica has alerted the Cubans that if they leave via this illegal route they will not receive temporary visas if they are deported back to Costa Rica.]