Cuba Dolls Up for Pope's Visit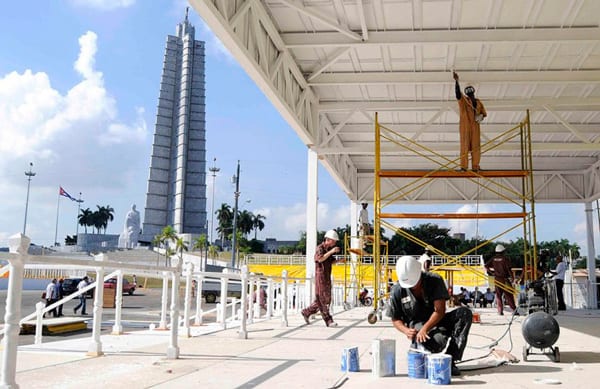 By Nwito  (OnCuba)
HAVANA TIMES — The increase in asphalt production for the repair of Havana's city streets appears to be directly related to the Pope's visit to the country from September 19-22. We'll never find out whether the Pope Mobile is capable to withstanding one of Cuba's notorious pot-holes, because it won't be finding any on its path.
What some atheists are now praying for is that his Holiness will design visit their neighborhoods, so that, at least for a few months, their cars will be able to travel down the roads without meeting any sudden bumps or splashing dirty, stagnant water around. Then, it's a question of praying for the Pope to come visit again.
This is entirely normal. When a "higher-up" visits a company, some managers get frightened, start to worry and begin losing sleep. The workers, however, are generally happy. That day, they will have chicken for lunch. If it's a top higher-up, they may even get roast pork, beer and even something better. The workplace gets painted and bosses talk to them and even show concern over their problems.
Some families keep a nice tablecloth or new bedspreads or towels for their home guests. The rest of the time, they use a dirty tablecloth or none at all, and their regular towels and bedspreads show the clear signs of wear and tear.
If they have to go to the doctor, many pull their best underwear from the drawer where they've hibernated for months. There are gynecologists and urologists who have never seen a hole in an undergarment, or have only seen them during an ER shift, where patients didn't plan on their visit, or while walking past a clothesline on a Saturday, when people usually wash their clothes.
Dentists see cavity-ridden teeth that have not been looked after the entire year, save that day, when people brush profusely, sometimes with foreign toothpaste kept for such occasions (or lent to them by a neighbor).
It seems that having guests over makes us cleaner and more elegant, and that this happens at all levels: with individuals, families, companies and countries. And it seems to happen even when those who receive conjugal visits in prison ultimately don't care if the undergarments of their visitors are in good shape.