A New Professional Activity for Cuba: Migrant Tourism
By Aurelio Pedroso (Progreso Semanal)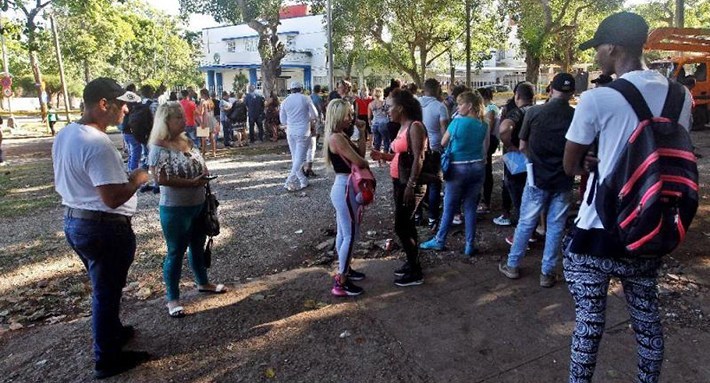 HAVANA TIMES – Tourism experts should add a new reason to their vast portfolio for why people in Cuba want to travel abroad: quite simply to sort out consular papers and suitcases so they can leave, almost always for good.
This new category, which will join those who travel for cultural, health, conventions, fishing or hunting, Nature, historic, shopping and so many other purposes, has just been coined by a skeptical owner who rents rooms out in Havana's Miramar neighborhood, where the vast majority of foreign diplomatic corps can be found.
He defines this strange category using statements made by Laureano Ortega, son of Nicaraguan president Daniel Ortega and first lady Rosario Murillo, who is in charge of Nicaragua's Tourism sector. This government official told the press that the main reason why an unprecedented wave of young Cubans were coming to this Central American country was simple and clear: "they want to see volcanoes".
It's laughable. Our neighbor's reasoning, who has been renting rooms for years, is a lot more spot on and in keeping with reality, as he is now an eye witness to this travel frenzy abroad to countries such as Mexico, Nicaragua, Panama, Italy, Angola and even peaceful Belgium. Embassies which you can walk to from his rental.
Meanwhile, others near him aren't visited that much. Some aren't even visited by ghosts. For example, Equatorial Guinea, the Democratic Republic of the Congo, Vietnam, Guatemala…
"I've been renting out rooms since licenses were approved," he says. "I've never seen anything like what's been happening recently though, except for the long lines there used to be at the US Embassy. Now, national tourists are the ones who take preference because there isn't anyone else. They don't go to hotels because these are expensive, so they turn to private rentals near embassies. It's migrant tourism, there's no other way to describe it.
"I've received people who have come from Alto Songo and are heading to France; from the Dominican Republic to go to Belgium (which doesn't have a consulate in Santo Domingo); from Cienfuegos, heading for Panama… From the most unexpected places you can imagine…"
And just like a dozen Cubans end up in the middle of the street for whatever reason, like an outbreak of weeds, anyone with commercial intentions, you have the resellers, the guy selling roasted peanuts, the municipal slush cart, cheese sandwiches and something else that we still call ham, and even this intermediary who offers accommodation nearby. In short, anyone who has signed up has seen a flower seller among these "fighters" showing off his product on 24th street, right in front of the Panamanian embassy:
"Open up your way with a gladiola."
The whole accommodation business has gained momentum amidst a crisis which, hasn't reached its extreme yet, but hasn't enjoyed the great boom in the past when Obama was in the charge, where people had to learn English urgently. "These are times when you have to take whatever appears and lower prices because you have to pay taxes whether you're renting or not. Mind you, if I have to lower the price to 15 CUC or less per night, I'm happy to," our anonymous informer explains.
The interviewee, an Angolan war veteran, from a period that marked the lives of many fellow Cubans, hasn't found a better way to finish off than repeating a phrase which could be heard from the northern and oil-bearing Cabinda to the southern and cold Cunene:
"The struggle continues; onward towards victory."
Each to his own, as my maternal grandmother would say.