Cuban Dancer Carlos Acosta in the World of Alicia Alonso
by Maykel Paneque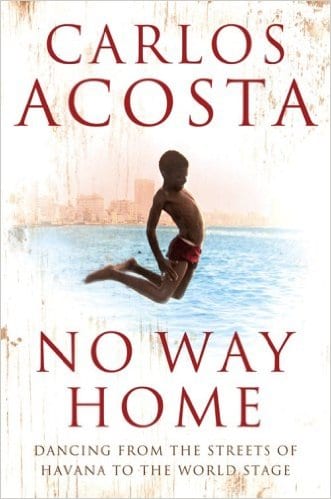 HAVANA TIMES — In Carlos Acosta's autobiography, Sin mirar atrás (No Way Home), which has been recently published by the Cuban publishing house Arte y Literatura, there's a prophetic phrase which has ended up coming back to haunt this renowned dancer: "In the outside world, Alice is a myth; but in Cuba, she's such an important character, that her influence is something like that of the president's. A word from Alicia can change your future."
Of course, he's referring to the Prima Ballerina Assoluta Alicia Alonso, who is supposedly responsible for the arbitrary action of calling off the book release event that was scheduled for June 11th. The Cuban National Ballet's founder has also been accused of having raised her voice, or her hand, and interfering on several other occasions so that the book wouldn't be published on the island.
This explains why Carlos Acosta's autobiography (in spite of there already being two editions in English, the first one dating back to 2007) has had to wait nine long years to be accepted by any Cuban state-owned publishing company, because private ones don't exist, and we don't know when they'll be allowed.
How can we explain such a delay, when we're talking about the confessions of Cuba's best dancer, who is even considered the world's best by some experts in the field of ballet? Furthermore, how can a military commando dressed as civilians burst into the Cuban Book Institute, bag the entire lot of the autobiography and then store them in an undisclosed location?
Up until now, No Way Home is still kidnapped, and Cuban book stores and readers are waiting for it to be released. Do the people who gave this order or those who acted upon these orders, truly believe that the book won't circulate in another form, for example, in a digital format? Cuba's censorship has cracks, luckily for those of us who haven't lost the habit of wanting to be informed.
Once again, official silence has been put into effect. Meanwhile, rumors and not so anonymous voices are running around giving us another version that counteracts the official account of events or, in this case, their uncomfortable silence.
What do they want to cover up? Power's impotence and arrogance in the face of a black dancer who became incredibly successful when he was just 17 years old, who hadn't even graduated from the National Ballet School yet? The obstacles Acosta had to overcome, indifference being the greatest hurdle, is that what they want to hide?
There's an unforgettable incident in No Way Home. Acosta is asked what Alicia said to him when she met alone with him. In fact, this was a private meeting that was held in order to decide his future.
– "What did Alicia Alonso say to you?" Estefania inquired.
    – "Ok, I'll tell you, but first tell me this: Do you believe that the color of my skin is a problem in ballet?
      She looked at me, surprised, and then with her ever-present charm, responded: "No, your skin is beautiful!", and she burst out laughing. I realized then that I had nothing more to say, and I've blocked any memories of that awkward interview from my mind.
That's a brilliant way to hint at the racism he'd suffered, without explicitly saying it.
It pains me to know that a woman like Alicia Alonso, the same woman who in 1965 and 1966 spoke up against the Revolutionary Government's arrogance and humiliation, now employs the same arrogance and humiliation to prevent a book from being released and distributed throughout Cuba's network of book stores.
When many artists, writers and intellectuals – to not say the great majority- had to contemplate the horror of being recruited for the dreaded Umap work camps, when they laid down their heads low, looked in the other direction, and made silence their strongest accomplice, I repeat, Alicia raised her voice to those in power and said: if you don't bring me all of Cuba's dancers and with hair on their heads – shaving the heads of those rounded up into the camps was one of the measures- there won't be any more ballet in Cuba. That's why it pains and surprises me that her attitude, 50 years later, makes arrogance an accomplice of censorship and high-handedness a style of power.