Gioconda Belli on Fidel Castro's Return
HAVANA TIMES, Sept. 18 — Nicaraguan author Gioconda Belli dedicated the most recent post on her blog on the  reappearance of Fidel Castro in the public life of Cuba, both a national and world news event.  We asked for permission to publish her entry for HT readers.
FIDEL
by Gioconda Belli (*)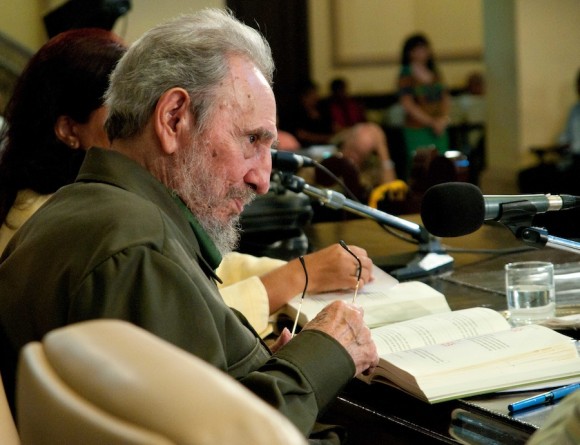 It must be incredible to come back from the dead.  That's what Fidel has done, one more entry in his book of innumerable combats. I have a journalist friend in California, an expert in all things Cuban, who has been waiting four years for Fidel to die just so she can despair.
The man doesn't die. He will die, there's no doubt about that, but who knows when. Meanwhile, he keeps on pontificating. Rather, he returns to an abandoned pontification and does so ever more grandly. He gives his opinion on whatever moves him and his opinions make headlines in the world's most important papers. The comandante must be pleased to see how the world continues to report his temperature, hang on his every word.
Think what you will of Fidel, you must admit that he is a phenomenon. Not only a dictator, as the right calls him, but one of those natural leaders, someone whose words, whether stupid or brilliant, carry weight. These days not everyone can claim that privilege. The words of our leaders are every day cheaper and more vacuous. Fidel has his sins to atone for, but his mark on history is indelible and very much his own.
I find what Fidel has told the press very moving: that he believed he would never return to the podium, that he thought his life was over. Without a doubt there is a special wisdom in his status, for he who has lost everything and has known the smallness to which one's existence is reduced when confronted with death or illness, does not return to life with the same arrogance as before.
His call to Ahmedinajad to stop speaking garbage is a sign of lucidity. As a woman, Ahmedinajad and all those Iranian Ayatollas make me shudder, because they represent the macho demon in all his crazed splendor. They are a return to the cruelest and most ignorant inquisition. I am enraged when I see women covered with hijabs, for it seems to me the most terrible sort of submission to indignity and backwardness. And that these men, with their guns, at this point in time, not only deny Israel's right to exist but question the fact of the Jewish Holocaust at the hands of the Nazis, is infantile and myopic. And this is in spite of the fact that I detest what the Israelis are doing to the Palestinians.
But okay, the thing is that Fidel is not afraid to call bread bread and wine wine. And for this reason, his confession that the Cuban model hasn't even worked for the island itself is a brave and revolutionary affirmation. Because those of us who have been in Cuba or known Cubans have known this for a very long time.
The Cuban people are admirable, truly extraordinary. And they deserve more credit than their government gives them, because if there is a place where I have felt a revolution of consciousness it is in Cuba. People there are amazing. Marvelous. Nonetheless, their government keeps treating them with fear, with hesitancy, as if they were children incapable of deciding for themselves, of seeing reality for themselves.
The media there keeps on feeding them those doses of stupidity, they keep on bringing them out into the streets—in massive numbers—to protest this or that, as if they don't know why the rafters leave or why it is difficult to survive and live with dignity in that "socialist" system about which their leaders speak.
I don't know how far Fidel has gotten in his examination of conscience. I don't know how close to wisdom he may be. But I hope his final legacy will be clarifying, that he will help his people to believe in themselves, in what they have learned, help them liberate those extraordinary energies they have demonstrated just surviving so much hardship, so many restrictions. If he does that, he will take his place in eternity as the leader who returned from the dead illuminated. If not, history will be his judge.
(*) Originally published in Spanish in the Nicaraguan daily El Nuevo Diario, on September 9, 2010