Honduras: From Bad to Worse
By Circles Robinson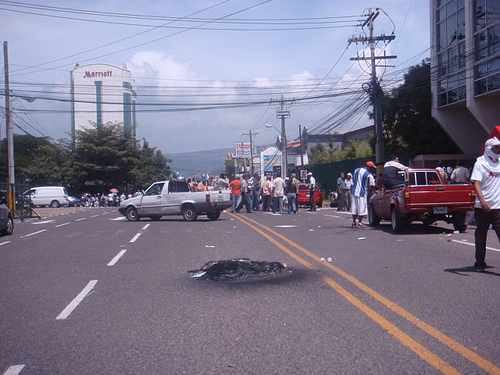 HAVANA TIMES, Sept. 28 – With ousted President Manuel Zelaya installed at the Brazilian embassy in Tegucigalpa, the Honduran military and its civilian supporters who seized power on June 28 continue to play big stakes poker at the highest level.
The coup leaders continue to snub the entire United Nations and the Organization of American States (OAS), as well as stymie any attempts to mediate the crisis.
In their latest delaying tactic, the de facto government of Roberto Micheletti expelled four OAS representatives who had come to Tegucigalpa with the mission to open doors to a settlement that would restore constitutional order to the country.
However, Micheletti seems to believe that time is on his side.  His apparent logic is that the longer his questioned rule exists and the closer to holding elections in November to put in his successor, the greater is the chance the coup will prevail.
A major march in support of Zelaya is called for Monday by different groups resisting the coup, including the teacher's union, which has been a pillar of protest since the president was thrown out of the country on June 28.
From his Brazilian embassy refuge, Zelaya -who snuck into the country a week ago with help from supporters- has called for peaceful demonstrations throughout the nation.
On Sunday, the coup leaders warned Brazil that they could take "other measures" -beyond the launching of toxic gases- within ten days if that nation continues to provide shelter to Zelaya.
In another move to thwart the growing opposition within the country, Reuters reported that the Honduran de facto leaders issued a decree "allowing them to suspend freedom of speech, ban protests and suspend media groups because of disturbances of the peace."
Just hours after the decree, the BBC reported on Monday from Tegucigalpa that Radio Globo and Cholusat Sur TV, both critical of the military coup, had been raided and closed.
Here in Cuba, the parliament has taken a position of strong protest of the coup and the military repression, and the island's media is closely watching developments.