Massive Graduation of Doctors in Cuba
By Elio Delgado Legón (Fotos: Elio Delgado Valdes)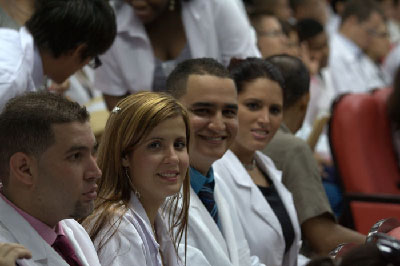 HAVANA TIMES — Last week, I attended the last graduation of medical doctors to be held in Cuba this year. It was indeed a marvellous privilege to see the over one thousand new physicians.
Of the graduates, 735 were from around the world (including 58 from China and eight from the United States), students from poor families who would have been unable to afford paying for this university career in their countries.
It is indeed reassuring to know that this white-coated army, now swelling the ranks of those who look alter the health of our people and the peoples of more than 70 countries scattered across the globe, did not have to pay a cent for the high-quality scientific and humanistic education they received.
According to the figures that were made public during the ceremony, a total of 10,526 students graduated from medical school across the country this year. If we count those who have completed their studies in all health fields (dentists, psychologists, nurses, technicians, physiotherapists and others), the number goes up to 29,712. Of that total, 5,020 were foreign students who received scholarships, in view of the fact they were unable to afford these studies in their country of origin.
This may seem like a high number of students for a country as small as Cuba, but, in fact, it isn't. The demand for medical doctors around the world is immense, and Cuba is not given to thinking exclusively and egotistically about its own needs.
Today, millions of children around the world continue to die as a result of illnesses that could be prevented with a simple vaccine, and millions of others perish due to a lack of proper medical attention.
Cuba contracts its services to those countries that have the means to pay for them. However, it also offers these same services to poor countries free of charge as a gesture of solidarity. Haiti is an important case in point.
Cuba has taken in students from small countries in the Caribbean and trained them as medical doctors, nurses and other health personnel free of charge, so that they may offer the medical services their populations require.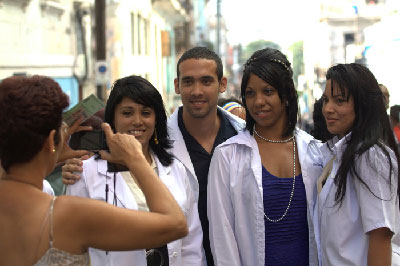 While watching the graduation ceremony, listening to the words of gratitude of a number of foreign students, and seeing the commitment assumed by Cuban graduates, I thought that, even if the revolution that triumphed in Cuba on January 1st, 1959 had not done all of the things it can proudly point to today, even if it had limited itself to doing what it has done in the field of education and health, even then, all of our sacrifices over these long years of struggle would have been worth it.
There will always be those who look to the sun and see, rather than light, only its spots. We know our revolution isn't perfect, as no human undertaking is perfect. But, what the Cuban revolution has done, continues to do and will do for the poor of the earth is enough for us to feel proud to be Cuban and revolutionaries.
We can add to this the almost unheard-of fact that all the young people who graduate from Cuban universities today have the guarantee of a job in the country, something which contrasts rather starkly with the situation of unemployment faced by young people nearly everywhere around the world.
Finally, to reply to those who continue to complain about Cuba's next to inexistent racism, allow me to refer to the following fact: sixty percent of the students who participated at the graduation ceremony I attended are either black or mixed race, and the immense majority of the patients who receive medical attention from Cuban doctors in over 70 countries around the world are not white.

Click on the thumbnails below to view all the photos in this gallery. On your PC or laptop, you can use the directional arrows on the keyboard to move within the gallery. On cell phones use the keys on the screen.