By Amrit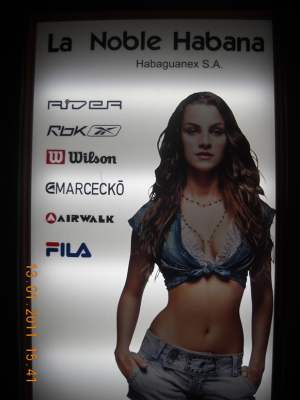 HAVANA TIMES, July 10 — I was never too obsessive about etymology.  For a long time I believed words held an unfathomable, inexpressible mystery, no matter how much we might have thought they were known or even common.  But on occasion, subjectivity exposes us to high risks…
There's always the risk of getting lost in that semantic ambiguity, where good is exchanged for bad and we no longer know how to differentiate the two.
Passing in front of the Saratoga Hotel in Old Havana, I saw a photo that caught my attention.  It wasn't that the teenager in the photograph was so attractive, instead I was drawn in by the slogan at the top of the picture: "Noble Havana."
I couldn't help but laugh, and it seems that this was the first indication of confusion, because what I really felt was far from happiness.
I have to confess that the adjective "noble" is among my favorites.  I know that every word can arouse a host of associations depending on each person's experience with it, but when one is used as a slogan, it inevitably appeals to a wide range of interpretation.
I'm sure that the pose and the attitude of the model in that photo don't represent what most people would identify as "noble" qualities.
Even in antiquity, when this word was so abused, being "noble" indicated more than a social rank; it also meant rigorous practice or at least the simulation of moral will.  Even when people talk about the nobility of a dog or some other animal it's unthinkable to relate this quality to vanity and/or lasciviousness, and much less to the subliminal message of selling the sexuality of a teenager.
According to the Larousse Dictionary: 
Noble: (from Latin nobilis, known) That which belongs to a family with some illustrious title.   That which belongs to nobility.  That which has great moral qualities…
The synonyms for "nobility" that appear are: distinction, honesty, honor and loyalty.
Then, totally disoriented, I looked at the panorama offered by the "noble" Havana that surrounded me.
A few steps away was the Marti Theater, with taxis lined up in front of it to go to Alamar.  The crowd, desperate to get to the outskirts of the city, walked from one side to the other, some asking with a faint trace of hope what was the fare for the trip.
"Alamar for twenty (pesos)!" the drivers screamed.
A little further on, in front of the Capitolio Building, the other larger but more compact crowd began to stir when seeing the approach of a P11 (the bus whose route goes from downtown Vedado to outlying Alamar).  When the bus hit the brakes, and pushing and elbowing were the sole guarantee of getting on, I could see that most of those who made it on were men…
I, of course, was among those who remained below, and while I cursed the heat and bit my fingernails with desperation, I felt that my noble Havana was looking at us with complete impudence and indifference, like the teenage girl in the poster.