This "Thing" We Call Internet in Cuba
By Yudarkis Veloz Sarduy (Progreso Semanal)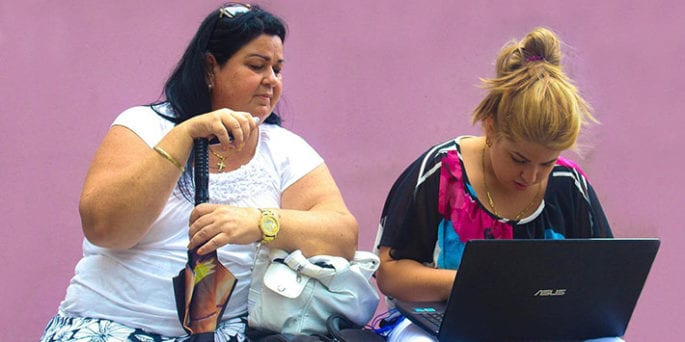 HAVANA TIMES — I will never forget my friend F. trying to persuade me to buy a better phone so I could have a Nauta email account. "Don't be stupid, girl, this is an investment, it's just email for the minute, but who knows what's coming," he said. So I made my little @nauta.cu account.
This whole good-naturedness of telecommunications must have changed many Cuban's lives, just as it had my own, as there's good reason why the Internet is considered a parameter to measure quality of life and is taken into account when assessing social wellbeing.
A few years ago, this was a very alien reality for Cuba. Only state-owned companies and research and education centers had access, and that's where the first emails came from that a kind neighbor would do the favor of printing for whatshisname's mom so that she could hear from him, while he was on some kind of international mission abroad and especially those who had personally chosen to emigrate.
There were also chat programs on the intranet, then came Badoo and other dating websites to find a partner. Even literature had to echo this reality and I have to mention the fictitious story that El cuentero published around 2006: "Llevame a navegar" (Take me to surf the net).
Now, we are already tied to our own forms of "surfing". The ITU (International Telecommunication Union) is the UN's specialized agency that is responsible for developing telecommunication standards between different governments and telecommunication companies. In 2014, the ITU launched its "Connect 2020 Agenda", which proposes to enable and foster greater free access to the internet in many countries by bridging the affordability gap between average monthly incomes in each country and the price of internet access in these.
Our country is a member of the ITU and, according to a telecommunications engineer who preferred to remain anonymous, it was because of this Agenda that Cuba's computerization process kicked off as national government policy.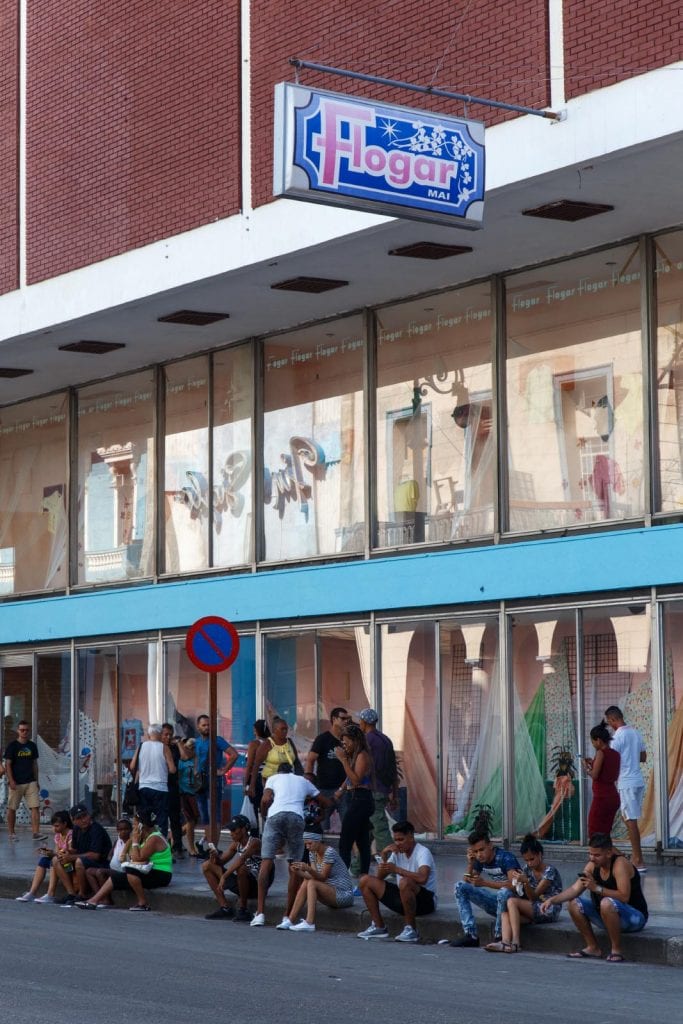 However, they needed to start off with little steps and so they needed to establish a way of connecting many with the less that we have always had. The answer: (pay-for) WIFI hotspots in parks and public spaces. There are 508 WIFI spots all over the country and these have changed Cuban people's lives more clearly, and in spite of the fact that daylight doesn't go well with the light of screens, hundreds of Cubans go there to put their eyesight and privacy at risk.
Back in 2015, Cuban artist Luis Manuel Alcantara denounced this issue of privacy with his performance "Unidos por el wifi" (Joined by WIFI). The artist found a very calm way of celebrating his wedding anniversary: he chose the busy corner of 23 and L streets, with the greatest nonchalance, to strip down to his underwear and dance around the traffic light pole, giving his wife a striptease. In answer to the thousands of questions asked, he didn't stop mentioning the people who spend the time to seduce a foreigner so they can get some regular money, or the mother who cries because she hasn't seen her son in so long, or the girlfriend lying to the boyfriend who left.
"The worst thing I have had to listen to at a WIFI spot was when a young man was asking someone on the other side to tell him the truth, a truth which he then shouted out upset when we all found out that he was gay and that he had been given an appointment to see if he had HIV," tells me Ambar, who has made Monaco park her office.
Then there's Yaque, who has her husband and son living in Miami, who tells me about the day she hid herself as far under the Havana Libre hotel as she could so she could show her breasts, with more fear than lust. "That was pathetic."
And it's also pathetic to see people piled up on top of each other because there isn't anywhere left to sit, and there are people who "rent out" some extra stools in San Rafael Park. And then, between pathetic and hilarious, you find people who don't have a front-camera and so they hold up a mirror on the other side, while they turn the phone at themselves, so they can see the person who is faraway but appears on their screen, this person they miss, who they need to ask for a little money because the daughter's shoes broke or because "the old lady is very sick, my brother, and you don't know how much malanga costs here now."
Cubans go to WIFI hotspots because half of Cuba isn't in Cuba, and it's the chance they have to communicate with each other, to "see" each other, to talk to each other, even though the picture freezes and there's a two-minute delay. It's already become a pastime, even a question of proving your status as is having a super phone. Less people, although they also exist, use them to work, even though they might not be able to exploit all of the opportunities the internet grants them because of their own financial situation and because the internet is so relatively expensive.
And then Nauta home connections came along, with these out-of-this-world prices that they continue to charge in terms of time instead of in weight, in megabytes or gigabytes. Buying 30 hours of internet isn't the same as buying 30 gigas: you can spend two months chatting via IMO with 5 gigas, while you can use 5 gigas up in a flash if you want to download a movie. As broadband still has very limited reach (200 or 300 meters), it's a long way from what's needed to develop the computerization process. There aren't enough internet rooms or state companies, and I don't believe we're going to reach the figures put forward in the "Connect 2020 Agenda" with Nauta Home.
"Can you imagine waking up, looking at your emails and seeing you have a work meeting so you brush your hair and make a video conference call, and then you order a pizza for lunch and you take advantage to pay all your bills online without having to leave home to catch the bus, wait in line under the sun. That's CONNECTIVITY, Yuyu," a friend tells me on a chat program.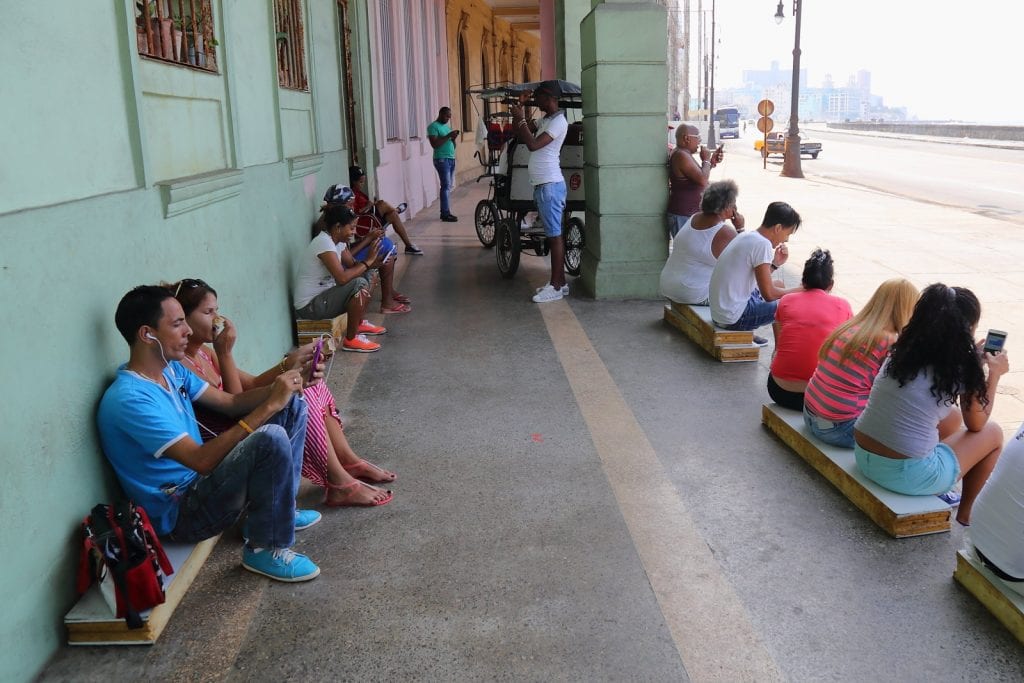 Another friend tells me about Circuit Switching, which uses all of the channel and uses up time, in this case voice: and Packet Switching, which is when internet is charged via the amount of data you use. And I ask myself, do our engineers know this? Both of these have only been implemented a few months ago in some countries, why is it backwards here in Cuba?
Now, ETECSA has just affirmed that there will be internet on Cuban cell phones in 2018. This must be what was coming, F. my dear friend, and you will have been right, and we will begin to pay phone and electricity bills online, then maybe we will be able to buy medicines and supplies online, and clothes and kitchen utensils, and we will have our own Amazon, and who knows if this will lead to a system that allows us to get things off the rations booklet via Nauta.
Now, we just need to wait for 2020 to see if the prices of these services won't exclude those of us who don't receive remittances or have high incomes, that there is someone who compares the impact of the internet on humankind with that of the discovery of fire, because this is a question of evolution and we have to evolve.