A Wage Increase in Venezuela?
Caridad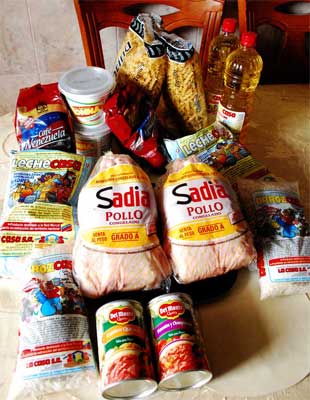 HAVANA TIMES — After a year's absence, one of the things that struck me upon my return to Caracas was the increase in prices.
It's true that there exists the "Mercal," a kind of market created by the government with "affordable prices." That's how they promote it and it's no lie – most of the products are at least half the prices of other markets.
In the Mercal, with 100 bolivars, for example, I can buy 2 two large chickens, 2 kilos of milk, 1 kilo of coffee, 2 kilos of pasta, 2 kilos of rice, 1 kilo of butter, 2 liters of oil and various sauces. At the minimum wage in Venezuela, this would be more or less two working days of pay.
In a private supermarket, that amount of products would usually cost about 300 bolivars.
President Chavez usually increases the minimum wage every year, but the terrible thing is that even before the increase takes effect, the prices of public services and all kinds of products double…or even triple.
For example, two years ago with 1 bolivar you could make two trips on the Caracas Metro. Now I need 3 bolivars. It's the same with bus transportation: what was 2 bolivars is now 3. But since further wage increases have already been announced in some states, the price for this kind of transportation is up to 5 bolivars; while here in Caracas, on the weekends and on special days the fare has increased to 3.50 bolivars.
I'm referring most to transportation because it's what strikes the common people the most, it's what is immediately needed to get back and forth to work to earn a living.
Households also have to pay utilities and rent, so living on the 2,047.51 bolivars minimum wage announced for September isn't easy.
Of course things could never compare with Cuba. Ever since I was little there's been only one wage increase (fairly puny), and most people can't buy even one chicken in two days of work.
I imagine that many Venezuelans begin to feel anxious every time there's talk about a minimum wage increase because it doesn't benefit those who don't receive a minimum wage. However, they too are affected by the steady rise in prices.

Click on the thumbnails below to view all the photos in this gallery. On your PC or laptop, you can use the directional arrows on the keyboard to move within the gallery. On cell phones use the keys on the screen.