CIFO Collection at the Havana Biennial
Photo Feature by Irina Echarry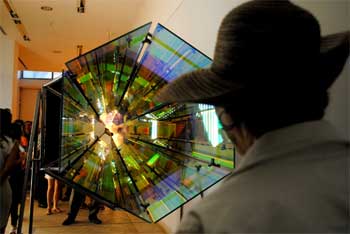 HAVANA TIMES — The temporary exhibit hall of the Universal Art Building of the National Museum of Fine Arts was filled recently by an audience eager for artistic experiences. Their gazes were fixed most closely on what was beyond what was nearest to their eyes as they prepared to enjoy works from the Ella Fontanals-Cisneros art collection (CIFO).
This selection of contemporary art, which includes several high-profile artists, consists of more than 80 works. Installations, photographs and videos represent four continents, with this being the first opportunity for many of the artists to show their work to the Cuban public.
In section "Outside Cuba," this portion of the exhibit puts us in touch with Cuban-American artists Felix Gonzalez-Torres, Maria Martinez Canas and Ana Mendieta.
There's much to see: A drop of latex that contains cloves inside is suspended over the stairs of the building; on two blackboards, imitating the style of punishment in schools, read these repeated phrases: "I must not love too much" and" "I must not lose my sanity"; 74 bikes without handlebars intertwine to form a circular structure; two black and white photographs address different readings on gender issues in Iran; a tribute to French filmmaker George Melies and his Voyage to the Moon; in addition to words written in neon lights. These are alternatives that the viewer will evaluate when visiting the exhibition.
CIFO, with the special participation of New-York-based Serbian performance artist Marina Abramovic, comes to the Havana Biennial, an important place in visual arts at the international level promoting not only the work of Latin American artists but also attracting some of the best of contemporary art worldwide.

Click on the thumbnails below to view all the photos in this gallery. On your PC or laptop, you can use the directional arrows on the keyboard to move within the gallery. On cell phones use the keys on the screen.