Cuba's Four-legged Fighters
Photo feature by Caridad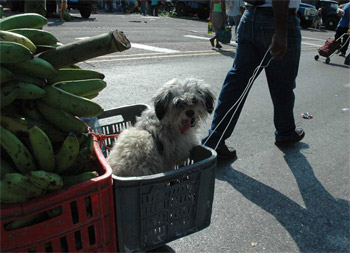 HAVANA TIMES, March 7 — If things are bad for those of us who walk around upright and on two legs, what's left for the dogs and cats?
Like the saying goes here in Cuba, they have to get out and "fight their way through" just like everybody else. Each has their own mechanism.
Some are tireless workers who dig furrows in fields until they find some potato or yam.
Then there are those that guard the tables at farmers' markets or help their owners to cross the street and do the shopping.
Others escape from their houses the best they can when they are not given the chance to visit their significant others. But it's more common for them to prefer to simply be funny and faithful helpers of those who take them in.

Click on the thumbnails below to view all the photos in this gallery. On your PC or laptop, you can use the directional arrows on the keyboard to move within the gallery. On cell phones use the keys on the screen.