Imprisoned Cuban Five Artist Shows His Paintings in Havana
Photo Feature by Elio Delgado Valdes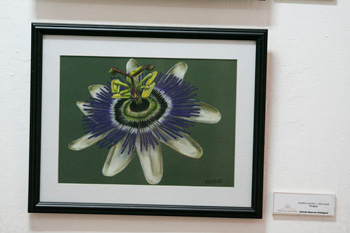 HAVANA TIMES — Nacen entre espinas flores ("Flowers Born Among Thorns"), an exhibition of watercolor paintings by Antonio Guerrero, one of the Cuban Five, was inaugurated at Havana's National Natural History Museum this past May 22.
Depicting the national flowers of all Latin American countries, the 32 works on display were painted by Guerrero in the US prison, where he is currently serving a sentence on charges of espionage, handed down in what many consider a rigged and unjust trial.
Guerrero, scheduled to be released in September of 2017, and the other four members of the group – Rene Gonzalez (now free), Fernando Gonzalez (also free), Ramon Labañino (to be released in 2024) and Gerardo Hernandez (serving two life sentences) – are considered national heroes by the Cuban government.
Cuba maintains that they had infiltrated terrorist groups based in south Florida that carry out violent actions against the Cuban people and have already caused over three thousand deaths and injured an additional three thousand people since the triumph of the revolution in 1959.
Guerrero's works will be on display until June 22, when the exhibition will be relocated to other venues around the country.

Click on the thumbnails below to view all the photos in this gallery. On your PC or laptop, you can use the directional arrows on the keyboard to move within the gallery. On cell phones use the keys on the screen.