Victor Pellegrini Plays Havana
Photo feature by Elio Delgado Valdés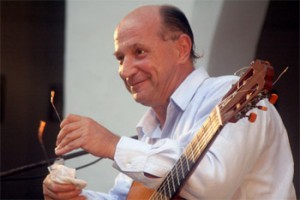 HAVANA TIMES — Victor Pellegrini, the Argentine guitar virtuoso, offered a beautiful concert recently at the Pablo de la Torriente Brau Centro Cultural in Havana, performing pieces by composers from Brazil, Mexico, Cuba, Argentina , Ecuador and Venezuela.
"This peculiar loving relationship between Pellegrini and his guitar" resulted in a virtuosity that, although already known, never fails to surprise the audience at his concerts, noted Victor Casaus, the director of the center.
Works by Astor Piazzola (Argentina), Fariñas (Cuba), Villalobos (Brazil) and Manuel Ponce (Mexico), among others, were executed by Pellegrini, in an unforgettable evening.

Click on the thumbnails below to view all the photos in this gallery. On your PC or laptop, you can use the directional arrows on the keyboard to move within the gallery. On cell phones use the keys on the screen.