Cuban Theater Day Celebrated
Photo Feature by Dariela Aquique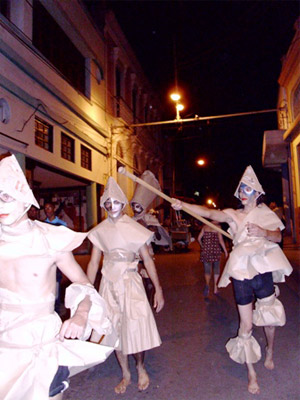 HAVANA TIMES, Jan 23 — In downtown Havana — in the area between Zulueta, Colon, Morro and Refugio Streets — can be found the "Villanueva Theater."
On January 22, 1869, a company of comic actors appeared in that facility to put on a work titled Perro Huevero. Attending that function were several supporters of the Cuban independence movement, which had begun a few months prior in the eastern part of the island; this function was in fact serving as a fundraiser to support that struggle.
In the middle of the show, the enthusiasm of one the actors caused him to blurt out, "Viva the country that produces sugar cane," which was responded to with cries of "Viva Cuba Libre" and "Viva Cespedes." These praises revealed the sympathies of the actors and the audience for the Cuban rebel cause.
Members of the Cuerpo de Voluntarios (an auxiliary military force of Spanish colonial rule) present in the vicinity of the theater initiated an exchange of bullets that became widespread throughout the city, causing several deaths and injuries over the next several days, along with the conducting of various search operations and the making of numbers of arrests.
That fateful but heroic passage in the history of Cuba is known today as the "Villanueva Day," and that date was chosen in memory of those dramatic artists to celebrate Cuban Theater Day.
Therefore, every year Villanueva Day takes place with the theaters in the capital giving out awards in different categories relating to the performing arts and receiving new theatrical submissions.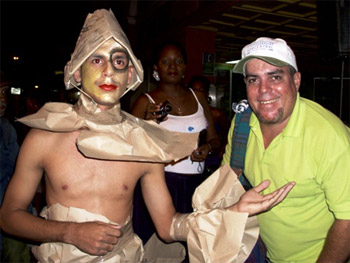 But this homage to those early comedy actors is not confined to premises in the capital. Various initiatives throughout the country take place in which artists of the stage contribute to this expression.
This year the city of Santiago de Cuba honored those 19th century comedians with a traveling street performance that went from the steps of the Cabildo Teatral cultural complex to Enrramadas Street and Dolores Park.
Living statues were followed by a public that admired their compositions and followed the performers into the theater where, once inside, they could enjoy a play performed by an original group from their own city.
It was the community group Allegro, which took on the responsibility for the street scenes that were created in a novel project under the direction of designer and scenographer Eduardo Guasch Estiu.
I took several photos of this activity for friends of this website could see how Santiago honored Cuban Theater Day.

Click on the thumbnails below to view all the photos in this gallery. On your PC or laptop, you can use the directional arrows on the keyboard to move within the gallery. On cell phones use the keys on the screen.