Cuba Baseball: Joan Carlos Pedroso Reaches Top Ten in Career Home Runs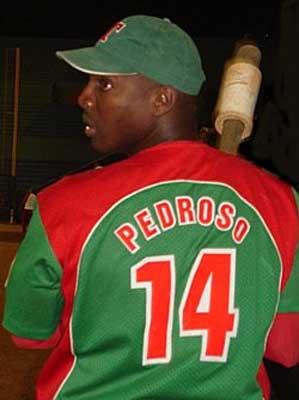 HAVANA TIMES, April 14 — With two homers in last night's game (April 13, 2012) at Las Tunas, giant first baseman Joan Carlos Pedroso has now moved into the career Top Ten list for lifetime Cuban League home runs.
His shots led Las Tunas in an important 13-7 win over Santiago de Cuba in their battle for an Eastern Division playoff ticket.
Here is the revised all-time leaders list as now recorded in the Cuban League record books:
Cuba's Top Ten Career Home Run List
1- Orestes Kindelán (487) Santiago de Cuba (21 seasons)
2- Lázaro Junco (405) Matanzas (18 seasons)
3- Omar Linares (404) Pinar del Río (20 seasons)
4- Antonio Muñoz (370) Azucareros (24 seasons)
4- Romelio Martínez (370) Habana (15 seasons)
6- Luis Giraldo Casanova (312) Pinar del Río (17 seasons)
7- Gabriel Pierre (306) Santiago de Cuba (18 seasons)
8- Julio Germán Fernández (302) Matanzas (19 seasons)
9- Joan Carlos Pedroso (286) Las Tunas (15 seasons)
9- Pedro José Rodríguez (286) Cienfuegos (15 seasons)
9- Oscar Macias (286) Habana (18 seasons)
If we were to rank these eleven sluggers (there is a three-way tie for ninth place) according to their home run productivity (how many at-bats needed for every home run hit) the listing would be altered somewhat. Such a frequency list for the same players would be topped by Romelio Martínez, while Joan Carlos Pedroso would climb to number six overall and Cheito Rodríguez would also move up significantly.  The ratio number is arrived at by simply dividing a player's career ABs by his lifetime home run total.
Revised List Based on HR Frequency
1- Romelio Martínez (370 HRs and 12.84 frequency ratio)
2- Orestes Kindelán (487 HRs and 13.32 frequency ratio)
3- Lázaro Junco (405 HRs and 14.27 frequency ratio)
4- Pedro José Rodríguez (286 HRs with 14.58 frequency ratio)
5- Omar Linares (404 HRs and 14.76 frequency ratio)
6- Joan Carlos Pedroso (286 HRs and 14.98 frequency ratio)
7- Luis Giraldo Casanova (312 HRs and 16.95 Frequency ratio)
8- Gabriel Pierre (306 HRs and 17.44 frequency ratio)
9- Antonio Muñoz (370 HRs and 18.04 frequency ratio)
10- Julio Germán Fernández (302 HR with 20.23 frequency ratio)
11- Oscar Macias (286 HRs with 22.07 frequency ratio)
A further interesting comparison might be made with several other current Cuban sluggers. Yulieski Gourriel ranks second on the current active list with 232 round trippers but boasts only a 17.38 frequency ratio. New single-season record holder Alfredo Despaigne, now with 199 career homers, boasts a more impressive ratio with one homer for every 13.44 ABs, while José Dariel Abreu currently carries a 14.80 frequency mark (with 160 homers).
Gourriel is now completing his tenth league season while Abreu is playing in his ninth and Despaigne his eighth. It might also be noted here that Abreu and Despaigne have captured the two most recent league batting titles and Despaigne entered the current campaign with the fourth highest lifetime batting average (.349) in league annals – trailing only Linares, Michel Enríquez and Osmani Urrutia. Gourriel ranks seventh on that Top Ten Batting Average list and Abreu is tied for ninth slot; Abreu will obviously move up this winter with a second straight batting title now seemingly assured. While Gourriel has never won a league batting crown, he remains the only player in National Series history to top the league in base hits (2005), runs scored (2005, 2010), doubles (2007), triples (2006), home runs (2006), and runs batted in (2010)
Cuban League career home run totals include games played in the National Series, Selective Series, and also two other shorter tournaments (Revolutionary Cups and Super Leagues). Also included in a player's stats are both regular season and post-season homers – a departure from the Major League practice. Gabriel Pierre is the only member of the Cuban League Top Ten list never to claim a single-season National Series long-ball title. Pedroso paced the circuit in homers only once, in 2003 (National Series #42) when he slugged 28 round-trippers, but also led the pack during Super League #4 (2005).
Now completing his fifteenth league season, Pedroso remains unchallenged as the home leader among active Cuban Leaguers (trailed most closely by Yulieski Gourriel and Despaigne). He was also the first on the island to cross the threshold of 200 using only wooden bats, having hit only six long balls in his two limited debut seasons before wood war clubs were reintroduced in time for the spring 1999 post-season playoffs. Pedroso's home run total for National Series regular season games now stands at 263, with one additional blast coming in post-season play and 22 during his four shorter Super League campaigns (2002-2005).
Joan Carlos Pedroso Home Run Chart (Season-by-Season through April 14, 2012)
# = Aluminum Bats; Boldface = League Leader; Post-Season HRs in Parentheses)
| | | | | |
| --- | --- | --- | --- | --- |
| Seasons | Home Runs | Career Total | At-Bats | Season HR Ratio (ABs/HRs) |
| NS#37 (1998) # | 1 | 1 | 78 | 78.00 |
| NS#38 (1999) # | 5 | 6 | 313 | 62.60 |
| NS#39 (2000) | 4 | 10 | 316 | 79.00 |
| NS#40 (2001) | 10 | 20 | 260 | 26.00 |
| NS#41 (2002) | 17 | 37 | 281 | 16.53 |
| SuperLiga#1 (2002) | 2 | 39 | 65 | 32.50 |
| NS#42 (2003) | 28 | 67 | 310 | 11.07 |
| SuperLiga#2 (2003) | 4 | 71 | 63 | 15.75 |
| NS#43 (2004) | 15 | 86 | 255 | 17.00 |
| SuperLiga#3 (2004) | 1 | 87 | 45 | 87.00 |
| NS#44 (2005) | 27 | 114 | 281 | 10.41 |
| SuperLiga#4 (2005) | 14 (+1) | 129 | 98 | 6.53 |
| NS#45 (2006) | 22 | 151 | 272 | 12.36 |
| NS#46 (2007) | 18 (+1) | 170 | 328 | 17.26 |
| NS#47 (2008) | 22 (+0) | 192 | 296 | 13.45 |
| NS#48 (2009) | 26 | 218 | 265 | 10.19 |
| NS#49 (2010) | 23 | 241 | 276 | 12.00 |
| NS#50 (2011) | 29 | 270 | 253 | 8.72 |
| NS#51 (2012) | 16 | 286 | 222 | 13.88 |
| Totals | 286 | 286 | 4284 | 14.98 |
(*) To keep up with the Cuban Baseball League we recommend Baseballdecuba.com