HAVANA TIMES, Aug. 30 – Cuban baseball expert Peter C. Bjarkman is set to cover the island's team at the International Baseball Federation World Championships on Sept. 9-27 to be played in Spain, Italy and The Netherlands.  Stay tuned for complete coverage of the games including Bjarkman's HT World Cup Diary, which will be featured on our front page throughout the event.
As a prelude to our coverage we bring you Bjarkman's special for www.baseballcuba.com on the make-up of the Cuban squad.
Cuba Fields Top Team for Baseball World Cup
By Peter C. Bjarkman*
After a grueling month of sixteen all-star exhibition contests staged in major stadiums across the island, the Cuban Baseball Federation officially announced its 24-man final roster for the upcoming Europe-based IBAF world championships.
This newest national team edition promises to be one of the strongest-ever island contingents, boasting veteran sluggers aplenty in Cepeda, Despaigne, Peraza, Gourriel, Enríquez and Céspedes, as well as a welcomed mix of veteran hurlers like Lazo, Folch and Vera alongside a handful of fresh young arms led by Freddy Asiel Alvarez, Miguel Alfredo Gonzalez, and 19-year-old closer Vladimir Garcia.
First-place finishers in 25 of 29 IBAF World Cup events (known as the Amateur World Series until 1988), the Cuban continue to be frontrunners as the first country to announce a final roster for this years event. And it is a roster likely to keep the perennial world champions on top of the heap.
The most significant change in the Cuban baseball camp comes with the debut Habana Province manager Esteban Lombillo as national team skipper. Known in recent National Series campaigns as a masterful handler of pitchers, the soft-spoken Lombillo is being handed an opportunity to reverse recent "failures" under Higino Velez (an early second-round ouster from the 2009 WBC), Antonio Pacheco (a disappointing silver medal finish in Beijing last summer), and Rey Anglada (a second-place finish in the last World Cup that ended a remarkable string of nine straight titles in the premier IBAF event).
The 52-year-old native of Artemisa has guided Habana Province for five seasons, compiling an overall 281-179 record and guiding his forces to their first-ever league title this past June. This past season's National Series manager of the year, Lombillo has previously tested international waters on a single occasion, guiding the Cuban junior national team to a bronze medal at the 2008 World Youth Championships.
There are few true surprises and only a handful of possible controversies on the announced World Cup national team roster, which is nearly identical to the selection tabbed for last spring's MLB-sponsored World Baseball Classic.
Among the position-player regulars, only veteran shortstop Eduardo Paret and first baseman Leslie Anderson are absent from the March "Clasico" lineup. The only significant pitching losses are number two starter Yunieski Maya (suspended after a July attempt to leave the country), one-time bright bullpen prospect Miguel Lahera (apparently passed over in favor of the emerging Freddy Asiel Alvarez), and veteran southpaw Norberto Gonzalez (now apparently judged to be on the down side of a nearly decade-long international career).
Paret-a mainstay in the national team shortstop slot since the Atlanta Olympics fourteen years back-spent the final month of this year's National Series in temporary retirement in Mexico (with government permission) but will retire to his Villa Clara team this coming winter.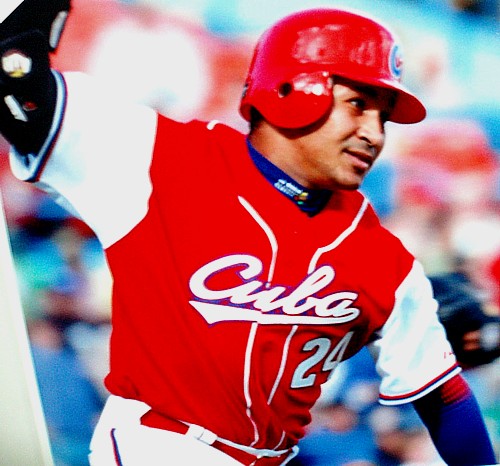 Newcomers include backup shortstop Yorbis Borroto and reserve first baseman José Dariel Abreu, a pair of promising youngsters who both recently impressed in their first international outings at the July World Port Tournament in Rotterdam.
Another fresh face is veteran first sacker Ariel Borrero, a talented hitter and solid glove man who lost his national team starting assignment on the heels of the March 2006 inaugural World Baseball Classic but has since returned with a vengeance during the last couple of domestic campaigns. Since Borrero's earlier departure from the international scene, the trio of Alex Mayeta (Industriales), Joan Carlos Pedroso (Las Tunas) and Leslie Anderson (Camagüey) have all failed in brief and unproductive national team trials.
The 24-man contingent directed by rookie skipper Lombillo and promises to be one of the most deep and versatile ever to represent the island. If there is a weakness in this Cuban club it is likely found on the pitching side, where Lazo and Vera are aging while new closer Vlad Garcia and potential starters Freddy Asiel and Miguel Alfredo Gonzalez boast little in the way of top-level international experience.
Pitching weakness may have played a major role in the selection of a new national team manager. Lombillo earned the favor of the Cuban baseball brain trust by leading his pitching-rich yet underdog Habana Province ball club to the top of the National Series pack over the past couple of domestic campaigns; he also skippered the Occidentales all-star squad that captured this month's pre-tournament domestic exhibition series.
Eduardo Martin, manager of National Series runner-up Villa Clara will serve as the team technical director, replacing long-tenured Benito Camacho in that capacity. And veteran outfield star Freddie Cepeda-the only unanimous World Baseball Classic all-star selection last March-has been designated to succeed the now-absent Eduardo Paret as Cuba's team captain.
A position-by position breakdown of the elite World Cup squad is as follows: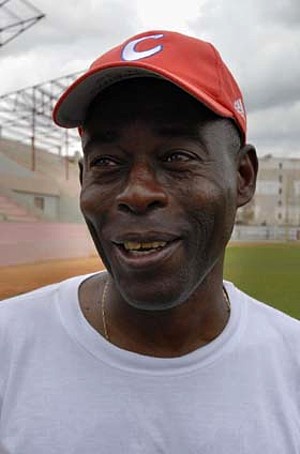 Catchers (3): Ariel Pestano (Villa Clara), Yosvany Peraza (Pinar del Río), Eriel Sanchez (Sancti Spíritus). Comment: Sanchez returns to national team status after a brief absence from the World Baseball Classic team and can also fill in at first. Pestano is likely playing his last international tournament. Peraza is likely the DH on at least a part-time basis.
Infielders (7): Ariel Borrero (1B) (Villa Clara), José Dariel Abreu (1B) (Cienfuegos), Héctor Olivera (2B-1B) (Santiago de Cuba), Yulieski Gourriel (2B-3B) (Sancti Spíritus), Michel Enríquez (3B) (Isla de la Juventud), Luis Miguel Navas (SS) (Santiago de Cuba), Yorbis Borroto (SS) (Ciego de Avila). Comment: As in the WBC, Enríquez and Gourriel will likely alternate at third; depending on opposition pitching (both can also DH). Navas will open at short but Borroto may have the job by tournament's end. Olivera can play almost anywhere and may be the team's most valuable property.
Outfielders (5): Frederich Cepeda (Sancti Spíritus), Alfredo Despaigne (Granma), Yoennis Céspedes (Granma), Giorvis Duvergel (Guantánamo), Leonys Martin (Villa Clara). Comment: Martin will be reserved for late-inning defense. Duvergel may play a similar role. Cepeda, Despaigne and Céspedes will be the starters, unless one of them fills in at DH.
Pitchers (9): Pedro Luis Lazo (RHP) (Pinar del Río), Norge Luis Vera (RHP) (Santiago de Cuba), Maikel Folch (LHP) (Ciego de Avila), Vladimir García (RHP) (Ciego de Avila), Yadier Pedroso (RHP) (Habana Province), Yulieski González (LHP) (Habana Province), Jonder Martínez (RHP) (Habana Province), Miguel Alfredo González (RHP) (Habana Province), Freddy Asiel Alvarez (RHP) (Villa Clara).  Comment: The biggest mystery is the continued effectiveness of veterans Lazo and Vera.  If both are at the top of their game Cuba should be unstoppable. Maya will be missed in the starting rotation and either Freddy Asiel or Miguel Alfredo will likely have to step up big to fill that void.  Middle relief is the strong point here with veterans Yulieski Gonzalez, Jonder Martínez and Yadier Pedroso (all from Lombillo's own Habana Province club).
Manager: Esteban Lombillo (Habana Province); Coaches: Luis Jova, Orestes Kindelán, Javier Gálvez, José Elosegui; Technical Director: Eduardo Martin (Villa Clara).
Esteban Lombillo seems the right choice to manage the new edition of Team Cuba.
My own surprises with this team are few and my complaints, if any, are fewer still.  If there might be a bit of second guessing on my own part it would likely have to do with the bypassing of veteran southpaw Norberto Gonzalez and the related limitation of a reduced nine-man pitching corps.
In a tournament as lengthy and complex as this one, the top challenge for any contending team will likely be the marshalling of pitching resources, and therefore an extra arm-especially an arm like that of Gonzalez, so often tested in international venues-might prove invaluable down the stretch run.
While 21-year-old alternate first baseman José Dariel Area is most definitely a most promising future offensive star, this team is not at all short on explosive bats.  Eriel Sanchez and Héctor Olivera can both fill in at the first base slot to spell Ariel Borrero if need arises.  For this reason alone I would have gone with Norberto Gonzalez over Abréu.
But this is certainly a small quibble in the end; we are talking about fine tuning here and not about any glaring errors of omission.  I had also expected that Roger Machado might draw the managerial assignment, given his deft handling of a young Cuba B squad only last month in Rotterdam.  But Lombillo may indeed be the answer given his proven skills at winning through clever management of his pitching corps (something Lombillo has been quite adept at doing in Habana Province over the course of the past two National Series seasons).
Of course there will be many complaints about these selections arising from among diehard fans on the island, just as there always inevitably are.  Most of these protests will be regional in nature and will involve the elimination of a particular adored provincial hero such as Matanzas Province's Yoandy Garlobo or Las Tunas favorite-son Alexander Guerrero.
The loudest protests in e-mails flooding into www.baseballdecuba.com over the past two days have indeed focused on the choices of Borrero over Garlobo and Borroto over Guerrero.
Yoandy Garlobo to his credit certainly boasts impressive offensive numbers during recent National Series action, but his weakness is altogether evident when it comes to the defensive side of the game.
Borrero hit nearly as well in domestic play this past winter and then burned up the opposition pitching at the recent showcase Rotterdam tournament. And Borrero owns one of the softest pair of hands on the island.
Garlobo, by strong contrast, likely sealed his future as a front-line national team performer with a disastrous two-error ninth-pinning defensive meltdown during last summer's Haarlem Honkbal Week gold medal loss to the USA.  Is Garlobo going to DH or pinch hit ahead of Despaigne or Céspedes or Gourriel or Enríquez or Cepeda?  I don't think so. And he can not start at first due to proven defensive shortcomings: case closed.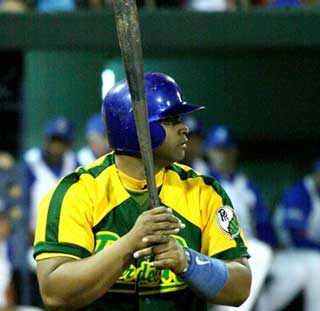 A similar issue surrounds the Borroto-Guerrero competition; while both enjoyed fine National Series #48 campaigns, Borroto has already gotten his feet wet in international waters with a solid Rotterdam World Port performance.  Borroto proved in early July that he can remain solid in the field and also deliver at the plate under the ramped up pressures found in international tournament matches.
I thus find no fault with the choices of either Borrero or Borroto. This team hardly needs any more potent bats; if it is lacking anything it might be a tad short of consistent infield defense (again the argument for both Borrero and Borroto on the roster) and pitching depth, especially in the bullpen.  I can certainly sympathize with island complaints about the dumping of veteran hurler Norberto Gonzalez; but I see little logic in any cries for the needed offensive production of either Garlobo or Alexander Guerrero.
Team Cuba is now more highly motivated than ever to recapture the World Cup crown that it surrendered to the arch-rival Americans two years ago in Taiwan, a loss that broke one of the sport's most impressive dynasty strings.
After skipping the event in 1982 (World Cup #27 in Seoul), The Red Machine rattled off nine straight titles over 25 years (Havana 1984, Holland 1986, Italy 1988, Edmonton 1990, Managua 1994, Italy 1998, Taiwan 2001, Havana 2003, Holland 2005) before dropping the showdown finale to Team USA in November 2007.
That stretch witnessed a miraculous overall individual game mark of 101 victories and only a mere five defeats (four of those in meaningless pool play games).  If the surprising 2007 Taipei setback at the hands of an American club led by future MLB all-star Evan Longoria stung deeply, further luster was obviously lost with the 3-2 gold medal defeat by Korea in Beijing.
And a final recent embarrassment came last March when a pair of round-two losses to dominant Japanese pitching in San Diego spelled an end to an almost unimaginable string of fifty straight major international tournaments in which Cuba had either won outright (43 occasions) or at least reached the gold medal final game.
The legitimate headline story last March by any reasonable measure should have been just how remarkable and unlikely Cuba's half-century domination of international baseball events has truly been. But in the "what-have-you-done-for-me-lately" world of sports the few defeats of the moment always dull the many triumphs of the past.
North American flag-wavers as well as island skeptics have all too quickly taken the second-place finishes in Taiwan and Beijing-and especially an early ouster at the recent "Clasico"-as foreboding signals that Cuba's dynasty reign is finally at an end.
Yet anyone closely watching recent National Series play on the island knows full well that the Cuban juggernaut is hardly a thing of the past. Diminished competition and a bevy of young Cuban talent should spell a quick return to normalcy next month in Europe.
Anything can of course happen in these round-robin-style baseball tournaments, where a single "off-day" defeat can spell sudden disaster. But this time around both the North American and Japanese pro leagues are still in session and thus only the Cubans will be sending true front-line representatives. Thus the Cubans under Lombillo still have to rank as overwhelming favorites on the eve of round-one action scheduled to unfold in five distinct European locations in less than two weeks time.
This latest Cuban squad should be more than capable of defending the island's storied reign as international baseball kingpins. With virtually the same seasoned squad that took the field for WBC competition in Mexico City and San Diego last March, the Cubans will now face far less challenging competition in Barcelona and Amsterdam than they saw in WBC venues.
That team, remember, lost only to superior pitching from the Japanese professionals during its March encounters with big leaguers.  Japan will not be able to field its top stars this time around with the Japanese League still in full swing in September.
Beijing nemesis Korea will also be absent top stars currently performing in the Japanese circuit. And Team USA, surprise winner in Taipei in November 2007 with a squad of future big leaguers fronted by current MLB all-star Evan Longoria, will this time likely send a contingent of AAA regulars who will be neither as talented nor as well-prepared as their predecessors.
The USA squad will not actually be announced until September 1, will practice as a unit for only three days, and will then attempt to round into a cohesive squad with a series of only four exhibition matches staged with Team Canada in Cary, North Carolina. The Cubans are coming off a full month of games against themselves-likely the best pre-tournament competition to be found anywhere on the planet. Take heart Cuban fans; the prospects for still another gold medal triumph have never been much brighter.
*Bjarkman's latest book-Baseball's Other Big Red Machine: A History of the Cuban National Team (McFarland)-is scheduled for publication in early spring 2010.