Isla de la Juventud Advances to its First Cuban Baseball Finals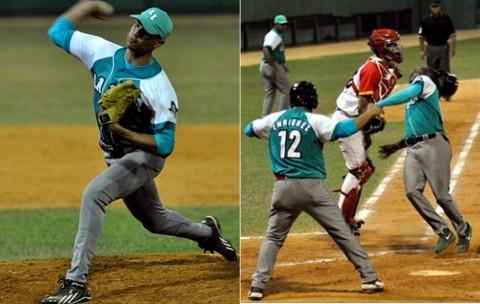 HAVANA TIMES — Isla de la Juventud won a spectacular 5-hour plus, 11 inning game over Matanzas on Tuesday night to reach the championship series of the Cuban baseball league for the first time.
The seesaw contest saw Isla take a 2-0 lead in the first inning off starter Yonder Martinez. Matanzas came back in the third and fourth innings with two runs each to take a 4-2 lead off Isla starter Yoelkis Cruz and held it until the eighth inning when Martinez had to come out due to the 100-pitch limit.
The Isla de la Juventud, playing in Matanzas with a 3-2 lead in the best of seven series, chipped away at the lead with a run in the eighth putting the score at 4-3 Matanzas and then went ahead 5-4 with two runs in the top of the ninth against ace Cionel Perez and a host of other relievers.
Matanzas wasn't giving up and came up with a run in the bottom of the ninth against the Isla's best relievers, Danny Aguilera and Hector Mendoza, and the game went into extra innings.
Neither team managed to score in the tenth, and the eleventh proved a nightmare for Matanazas the league's top team during the regular season. The never-ending frame saw Isla score ten runs and the game concluded at 15-5, a difference far from the tense game over the first ten innings.
The winning pitcher was Hector Mendoza and the loser Felix Fuentes.
The Cinderella Isla de la Juventud, which only made the playoffs on the last day of the regular season after a sweep that eliminated the capital's Industriales and last year's champion Pinar del Río, now plays Ciego de Avila in the finals starting Friday in Ciego.