DREAM Activist: I Infiltrated Florida Facility to Expose How U.S. Still Detaining Youth Immigrants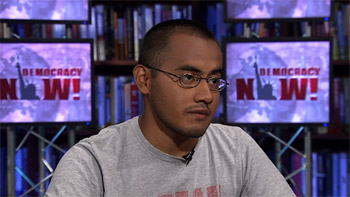 HAVANA TIMES — A new Obama administration policy could stop the deportation of as many as 1.3 million undocumented immigrants who were brought to the United States as children. Starting on Aug. 15, students under the age of 30 may be eligible for a two-year reprieve from deportation if they meet certain conditions.
We speak to Marco Saavedra, a DREAM activist who infiltrated a Florida detention facility and was arrested again over the weekend calling for the release of immigrants held there.
We also speak with Tom Shea, director of training for the New York Immigration Coalition about the Obama administration's new Deferred Action for Childhood Arrivals program and what it will mean for undocumented youth.
NERMEEN SHAIKH: We begin today with a look of a new policy that could stop the deportation of as many as 1.3 million undocumented immigrants who were brought to the United States as children. People can start to apply for the new status starting next Wednesday, August 15. President Obama first announced the so-called Deferred Action for Childhood Arrivals Program back in June.
PRESIDENT OBAMA: Young people who study in our schools, they play in our neighborhoods, they're friends with our kids, they pledge allegiance to our flag. They are Americans in their heart, minds, in every single way but one; on paper. Let's be clear. This is not amnesty, this is not immunity. This is not a path to citizenship. It is not a permanent fix. This is a temporary stopgap measure.
NERMEEN SHAIKH: Under the new policy, students aged 30 or younger who are enrolled in school on the day they apply will now be eligible for a two-year reprieve from deportation if they demonstrate that they came to the U.S. before their 16th birthday, lived here for the past five years, and have not been convicted of certain crimes and do not pose a national security threat. On Tuesday, the U.S. Citizenship and Immigration Services Director met with advocates to answer questions about who will be eligible and how they can apply. Meanwhile, advocates say many people who qualify for the new policy are still being deported. Last week, Democracy Now! spoke with a 26-year-old undocumented immigrant named Viridiana Martinez who infiltrated the Brower Transitional Center in Florida and found dozens of immigrants who she said should be released. She was speaking from inside the detention center.
VIRIDIANA MARTINEZ: I have found several Dream Act-eligible people here. One was being held for three months. She was just recently, last Thursday, released. And there was another one who was also released last week. But the damage is already done, you know? Although they are released, the damage is already done because they have been detained in this place. I think that is [Inaudible]. The administration is saying they are not detaining or reporting, [Inaudible] but here I am.
AMY GOODMAN: On Friday, Viridiana and her fellow activist Marco Saavedra were released from detention, only to be arrested again over the weekend during a protest calling for the release of other low priority detainees inside the Broward Denention Center center. Well, Marco Saavedra joins us now here in New York City. He just returned to the city where he grew up after immigrating to the United States with his family when it was three years old in 1993. Welcome to Democracy Now!, Marco. Talk about your experience inside; why you chose to get deported to get inside Broward.
MARCO SAAVEDRA: Correct. So, once again, my name is Marco and I am a Dream Act-eligible student. So, knowing that the privilege and the comfortability that that status, or that semi-status affords me, we knew that we could comfortably go into this center, infiltrate it, collect stories, develop campaigns with them, and then once going public with our status, and going public — me and Viridiana going public with the fact of what we had done so. We knew that we had a way to release and we were asked basically to leave, if not expelled, from the center. So, in brief, that is kind of what we did.
AMY GOODMAN: Tell us what you found inside. Who did you find?
MARCO SAAVEDRA: Well, we found, and what we've developed since we started this campaign — and I was in the center for about 23 days — was many, many detainee's who, as you said, qualify as low priority for deportation, including the case of an Claudio Rojas who was an Argentinean father who is now on his 17th day of his hunger strike, because, as an expression of his faith, but also as a statement saying that the worst is already happened to me, being separated from my family for the past six months. And using his body as a sacrifice or as an example of the sacrifice his already endured, he is willing to do that and because of that he was taken from Broward Transitional Center to Krome Detention Facility in order to be removed from the other the detainees that were also to organize as he had begun.
AMY GOODMAN: But what was his story? Why is he one of the people who would be released under Obama's program?
MARCO SAAVEDRA: Under the Prosecutorial Discretion Memo as outlined in the summer of 2011, he would be a perfect candidate. He was [Unintelligible] about two years ago when he was detained with his son after a minor traffic infraction. They were trying to enter a port and they didn't have valid identification. So, they were both in detention for three months. His son is Dream Act-eligible, Emiliano Rojas, and so, his case was dropped, but, Claudio received 120 days to leave the the country and disobeyed it because he would rather choose to stay with his family and provide for them. And so, receiving a deportation order and disobeying it, now that's the biggest thing that is really hurting his campaign for his release.
NERMEEN SHAIKH: There's a petition that was submitted on his behalf, is that correct?
MARCO SAAVEDRA: Correct. Already, on the legal side of things, we have already filed, or his attorney rather, has filed already, I believe, two stays of removal to reopen his case, because with a deportation order he doesn't have the right to see a judge in order to, maybe, readjudicate his case. But, there is also an online activist petition online at Dreamactivist.org, if folks want to sign on. That is not only for Claudio but really all the detainees. We found about 30 live petitions of individual stories with their families of folks who would qualify as low priority and we're really calling on the revision of all 600 cases, because that know the number is really high due to the fact that this is a low security detention center.
NERMEEN SHAIKH: Can you say a little about how you actually managed to infiltrate the facility? What did you have to do in order to get in?
MARCO SAAVEDRA: Correct. So, ironically enough, it was rather difficult. I know we first went to the port where Claudio and Emiliano were detained about two years ago, and afterwards we went to the Fort Lauderdale Airport and tried to talk to the Border Patrol there, kind of, with the pretense of looking for a friend or wanting to turn myself in, and being very blatant about being undocumented and being here without papers. Then, on the third attempt, we went to a Border Patrol station, again under the pretense of looking for a friend, where I confess that I was also undocumented and that I had come with my alleged cousin through the border. So, upon that realization, the agent apprehended me, which was I guess, in a word, the bait in order to enter the center.
AMY GOODMAN: How many young people did you find at the Broward Detention Facility who you believe would be eligible under the new Obama laws?
MARCO SAAVEDRA: Under the new Obama rule for Dream Act-eligible youth, specifically, there's five that I know of. I guess the most blatant case is the one of Pablicio Machado. I guess the most outstanding thing on his case is he was deported in February for driving without a license from Boston, and then tried to re-enter through the Bahamas. Upon re-entry, he actually pressed charges on his trafficker for human trafficking. He is also ineligible for a visa on those grounds.
AMY GOODMAN: What do you mean?
MARCO SAAVEDRA: When one assists in closing out a case, one, as an undocumented immigrant, assists the U.S. government in closing out a criminal proceedings case, and he has the paperwork to demonstrate that, that he and a fellow passenger but [Unintelligible] both testified against their human trafficker, against the man that was captaining the boat, trying to enter Florida via the Bahamas. One of them is [Unintelligible] in the prosecution of that case and is eligible for, I guess, several types of visa. I don't know specifically the one for human trafficking.
NERMEEN SHAIKH: How many people are there in total in the facility.
MARCO SAAVEDRA: About 600 detainees, and as we were saying, due to the fact that it's a low security detention center, a lot of them are there with little to none criminal record. A lot of them were caught either driving without a license or as passengers at a check point or maybe fishing without a license or at work or at a corner at Home Depot. There were instances of men going to church, 'cause I was obviously only interacting with the men, and stopped just on street corners or for minimal infractions; minimal such as DUIs or open containers. Obviously, those are the more harder cases, but, definitely the ones without criminal histories are very favorable for discretion.
AMY GOODMAN: Marco, how sure were you that you wouldn't be deported yourself, and what did they do when they figured out what you were doing in the jail?
MARCO SAAVEDRA: Correct. So, we never filed any paper work or never had attorney representation while we were in detention. I guess, the history of civil disobedience, particular to The National Immigrant Youth Alliance demonstrates that with that with public actions due to the publicity and public nature of of them, none of the now over 100 participants, not just Dream Act students but parents, have ever been put into removal for singing. So, that's why the process of creating silent action is going undercover [Unintelligible], because, publicly, we could never access a detention center after being apprehended by the police. Kind of like what happened this past weekend. So, without, again, filing any legal claims are talking to deportation officers, we were asked to leave, I think, as soon as national media began to pick up on that story with Democracy Now! and Univision interviewing us. We were just given a paper that said we might be eligible for the recent Obama announcements for young immigrants and asked to leave.
AMY GOODMAN: We're going to talk about that announcement in a minute. We're joined by Marco Saavedra, undocumented activist who infiltrated Broward Transitional Center in Florida July 11th, was released Friday, only to be arrested again over the weekend calling for the release of other immigrants in detention. He came to the U.S. from Mexico with his family when he was three years old. We will be joined by Marco, again, as well as an attorney talking about what the process is, now that these Obama rules have been laid out, for young immigrants to seek a stay of deportation or not to go through the process at all. Stay with us.
AMY GOODMAN: Our guests are Marco Saavedra who is a young activist, Dream Activist, who was detained this weekend and used his presence in the Broward Transitional Center, the reason he got arrested, to investigate whether other people in the jail should be released. We're also joined by Tom Shea. Tom Shea is Director of Training and Technical Assistance at New York Immigration Coalition. We just heard Marco's story. Tom, if you can talk about what is happening on August 15th.
TOM SHEA: On August 15th, the people who arrived in the United States as children would be able to come forward and apply for deferred action. The formal name is called Deferred Action for Childhood Arrivals. The application form is not out yet. The USCIS, The United States Citizenship and Immigration Services has said that they would post it to their website by August 15th. So, we have not seen the form yet. We don't know what the application will look like. But, in order to apply for Deferred Action for Childhood Arrivals, the person must have arrived in the U.S. before their 16th birthday, they had to have been continuously residing in United States since June 15, 2007 through the present, they had to have either entered the United States without inspection, by crossing the border illegally or if they entered legally, they have to have been in unlawful status as of June 15, 2012. They have to show that they were physically present in the U.S. on June 15, 2012 up through the time that they submit their request for deferred action.
NERMEEN SHAIKH: So, what should people know about this, and how different it is from with the Dream Act is legally?
TOM SHEA: Deferred Action for Childhood Arrivals is not a pathway to legalization, a pathway to the Green Card or a pathway to citizenship, unlike the Dream Act. If Congress had passed the Dream Act, it would be a pathway to people getting their Green Card. Deferred Action for Childhood of Arrivals is just really a determination by the immigration authorities that we're not going to deport you. We could deport you from the United States, but we're not going to start deportation proceedings against you, or if you're in deportation proceedings, we're going to stop deportation proceedings against you, or if you have…
AMY GOODMAN: For how long?
TOM SHEA: For two years. During that two year period you could get a work permit.
AMY GOODMAN: I want to play a part of President Obama's comments from June 15th when he announced the deferred action plan for certain young immigrants, and called on Congress to take further action.
PRESIDENT OBAMA: There's still time for Congress to pass the Dream Act this year because these kids deserve to plan their lives in more than two-year increments. We still need to pass comprehensive immigration reform that addresses our 21st century economic and security needs. Reform that gives our farmers and ranchers certainty about the workers they will have, reform that gives our science and technology sectors certainty that the young people who come here to earn their PhDs won't be forced to leave and start new businesses in other countries. Reform that continues to improve our border security and lives up to our heritage as a nation of laws a nation of immigrants. Just six years ago, the unlikely trio of John McCain, Ted Kennedy and President Bush came together to champion this kind of reform. I was proud to join 23 Republicans in voting for it. So, there is no reason that we can't come together and get this done.
AMY GOODMAN: That's President Obama announcing the new rule. Marco Saavedra, you graduated from Kenyon this year. You also attended Georgetown. President Obama is encouraging Congress to pass the Dream Act. What are you doing about getting the Dream Act passed?
MARCO SAAVEDRA: Correct. So, again, I guess our speaking as a member of The National Immigrant Youth Alliance, which is really a collection of grassroots efforts around the country, grassroots groups, that are largely student and ally led, our efforts have always been, obviously to be politically involved but primarily coming from our base being our communities. So, we start abdicating and organizing our communities, then we can have the accountability necessary to hold our politicians to their promises. So, instead of waiting for their time lines, we're hoping to always advance the agenda. I guess, speaking more to the Broward Transitional Center, though it might be coincidental, it is in Florida and, obviously, a very opportune and political time to be in that state since it is such a key electoral vote to win. So, we're trying to highlight that and also calling attention and accountability — in fact, today, there will be active civil disobedience at Senator Bill Nelson office because he's been, both he and Senator Rubio have been apprehensive to helping out many of our families. So, they both had been one priorly, and so in order, again, to advance the agenda, in order to hold them accountable, in order to demonstrate that community strength does already exist through organizing, I guess it's always good to escalate and always push the timetable.
NERMEEN SHAIKH: In the Broward Facility, when you were there, what was the average length of time that people had been inside? Some people for quite a while over a year or two, even.
MARCO SAAVEDRA: Exactly. By and large, folks are there for months at a time. I think the longest stay that I heard of was a group of six Sri Lankan men that were asking for asylum due to them being ethnic Tamils in the civil war in Sri Lanka, and they had been there for 20 months, even though many other Sri Lankans had gone through the center, had been given asylum in the U.S. But, by and large, a lot of the men sometimes even opt to sign their deportation orders instead of waiting indefinitely for a hearing just because there is only one judge for 600 men. So, your hearing might be spaced out months at a time. If you don't want to pay $2,000 for attorney who can then maybe find a bond hearing for you for $5,000, instead of some men kind of risk it; go back to Mexico or Central America and then say, I can pay a coyote $3,000 or $4,000 to go across the border and risk the danger of death.
AMY GOODMAN: Tom Shea, where do people go to apply on August 15th if they want to apply — young people?
TOM SHEA: We are at the New York Immigration Coalition holding an orientation that day. You can get more information on our website at www.thenyic.org. The orientation will have immigration attorneys there who will prescreen people to see if they qualify, and then we will make appointments for them with local nonprofit immigration legal service organizations.
AMY GOODMAN: This is a national show, and so, for people all over the country, what do they do? North Dakota, California, Arizona?
TOM SHEA: That's harder for me to say.
AMY GOODMAN: Do they go into an immigration office?
TOM SHEA: I would recommend going to a nonprofit immigration legal service organization; Board of Immigration Appeals recognized organization, organizations that are authorized to provide immigration legal services. I recommend going to immigration attorneys through those nonprofit immigration service organizations.
AMY GOODMAN: But not directly to Immigration?
TOM SHEA: Not directly to Immigration. Yes, is that what you were trying to ask me? I don't think you should go directly to the USCIS to do this.
AMY GOODMAN: Marco, will you be going?
MARCO SAAVEDRA: I think so. It's always, again, our privilege as a Dream Act-eligible student to be eligible for deferred action on a deportation — or be deportable. And also for the work permit advantages that that affords.
AMY GOODMAN: Do you have information on your web site for where people can go around the country — young people?
MARCO SAAVEDRA: Closer to August 15, again, on Dreamactivist.org, information on that will be uploaded. I guess, for now, we're definitely counseling folks to, as the attorney said here, but also to consult with, definitely, with and AILA approved certified attorney.
NERMEEN SHAIKH: Before we conclude, Tom Shea, I just wanted to clarify, if an application for deferred action is denied, what is the consequence of that? Would a person be deported then?
TOM SHEA: Well, it depends. The USCIS, The United States Citizenship and Immigration Services has stated that if they deny a request for deferred action, then they'll follow their policy on issuing a charging document for deportation proceedings. So, they would not outright say they won't put someone in deportation proceedings. What they've said is, essentially, if you do not have a criminal background, they determine you're not a national security threat or risk to public safety, then they will follow the NTA policy, and if you're a low priority, they will not issue the NTA to put you in deportation proceedings. So, that's not like a clear cut saying, we won't put you in deportation proceedings.
AMY GOODMAN: Which is why is critical to go to an immigration organization before you apply.
TOM SHEA: And avoid going to Notarios and immigration consultants who will scam people out of their money. They're not authorized to practice law and they very often submit applications that are not well prepared and that could really put someone in a bad situation.
AMY GOODMAN: Notarios?
TOM SHEA: Notarios, yeah.
AMY GOODMAN: Well, I want to thank you both for being with us, Tom Shea, Director of Training at The New York Immigration Coalition and Marco Saavedra. Thanks for joining us. I'm glad you're out; undocumented activist who certainly put his own life on the record and on the line to document what is happening to immigrants around the country. He infiltrated the Broward Transitional Center in Florida by getting arrested. Then, after he got out, he was arrested again, calling for the release of others immigrants in detention.
(*) See this program on Democracy Now.